Clever Conte keeps Chelsea honest
Italian has found a path to consistency but limited resources could spoil his run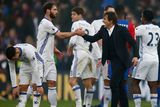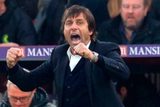 These are precious days for football managers. Snatched between intense periods in the schedule, it is a time to take stock and give key men a rest.
In Antonio Conte's case, it is a welcome seven days indeed because unlike every one of the other title hopefuls, he is working with a small group of players and would be damaged most by injury problems.
It is ironic that the club which has so many players out on loan should have so few to man the first team squad but while Conte would prefer more depth, there is an intimacy to working with a small group which can be incredibly powerful.
I know my time is not relevant in so much as every team worked with fifteen or sixteen players in those days and by and large, every fan of every club could name ten of the team that would start most weeks.
But it is a valid in the context of trying to understand how and why Chelsea alone of the main contenders have been able to find the consistency which delivers a winning run which gives them a six point lead over Liverpool, themselves three clear of the rest.
When you have a tight group all pulling in the one direction you have the right environment but there has to be more than that.
We all spotted Conte during Euro 2016 in France and for me, Italy's performance against Spain was the display of the tournament.
Substance
He had very little to work with and the 2-0, Round of 16 win was a triumph of Italian organisation and football savvy which marked him as a manager of some substance.
He knew for some time that he would be the new Chelsea manager but unlike Jurgen Klopp who got to do some on the job assessment with a free pass from his employers and the Liverpool fans for more than six months, he had no time to see his players play.
Managing Italy in the finals would have been all-enveloping and if he ever let his mind stray to Chelsea, it was only to think that perhaps some of his Italian internationals might fill some gaps at Stamford Bridge.
He didn't splash the cash in the summer and went to the starting line with a decent team but lacking the kind of depth I felt he would need to launch a title challenge.
I wonder was that his own thinking or indeed Roman Abramovich's, given the events which led to his appointment and turmoil at Stamford Bridge. If I'm right about Conte, he knows exactly what he needs and will have spent the time since the season started targeting and pursuing the players he wants.
Whether that will bring new blood into Chelsea in the next month remains to be seen.
What he needs most of all is back-up and support for Diego Costa and perhaps another defender or two. John Terry and Branislav Ivanovic are well beyond their best.
I'm not saying that Chelsea cannot survive the season without reinforcements but Conte would be a lucky man indeed if he keeps all his key men fit until May.
It is worth noting here that these same players would not play for Jose Mourinho and were condemned as "rats" by their own fans during that dark spell at the club a year ago.
It takes something very significant indeed for professional footballers to down tools in the way they did and perhaps there is an extra motivation among men like Cesc Fabregas, Eden Hazard and Costa to perform this season and wipe away a bad memory.
They may even feel that they owe the crowd something but basically, they are good pros being managed by a good coach.
There is no drama, no hysterical headlines and a steady rhythm of winning games to keep a smile on everybody's face.
This is a bubble which is so rare and of course, vulnerable to all sorts of outside and unforeseen circumstances.
But while it lasts, I can tell you that those players are having, quite literally, the time of their lives. There is no better feeling.
If Chelsea are the clear title favourites now, Liverpool are the pick of the following pack and their win over Everton at Goodison Park was an enormous result for Klopp and his players.
I said before that Klopp is a one-trick pony, with a fantastic trick but that was a bit unfair to the German and his team.
Honest
They are very honest and give everything they have for their manager. They can play with great skill, great pace and when they hit a purple patch, devastating power.
But they also have another quality which has developed under Klopp.
Before, Liverpool were a team that lost games in the dying minute.
Under this manager, they win them deep into stoppage time in their biggest rivals own ground.
That speaks of a very good dressing room, players who trust the manager and believe that if they do what he is telling them to do, they will have success.
That's a big change on previous Liverpool managers and one which was vital if the club is ever to rediscover the glory days.
If they can sustain it and if Conte and Chelsea falter, Liverpool won't be far away.