'Clerys stock' sold off in pop-up shop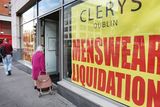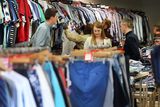 As the firm behind Clerys department store was appointed liquidators, there was a sale of old Clerys stock in a pop-up shop on Parnell Street.
The menswear store, which is run by the Best Menswear department from Clerys, is located where Peats World of Electronics was once situated.
The 'Clerys liquidation store' opened on Friday and was selling a selection of the concession's stock. Everything from Calvin Klein and Levis to Tommy Hilfiger was available.
The majority of stock is being sold at half of its original price.
READ MORE:
All suits on sale in the store are going at a reduction of €150-€200 from their original price.
The shop had a constant flow of around 50 customers at lunchtime yesterday, and owner David Jones said it's unsurprising given the low prices.
Mr Jones told the Herald that he had no option but to open the shop on a temporary basis, in an attempt to recoup some of the money lost from the closure of Clerys.
"Look, it's not a Best store, it's basically the Clerys menswear department store. It's just a matter of selling off the stock we had in the store at the time," he explained.
"None of it has been ordered in. The stock is being sold at a significant loss, that's the situation."
Staff in the store will be employed for around four weeks, depending on how sales go.
"We've got about 15 staff there at the moment, between full-time and part-time. All of them are from the menswear department in Clerys," he said.
"It's not open because I want to, it's open because I have to try to sell the stock."