Child rapist filmed being kicked and punched in city garda station attack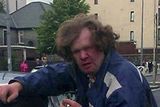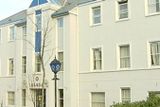 Jim Cusack and Ryan Nugent
A man is being questioned after a convicted child rapist who was tracked down by vigilantes was attacked in a garda station.
Paedophile Danny Ward had earlier been chased out of accommodation in north Dublin. Last month he was beaten and chased by a mob in Ringsend.
It has since emerged that the sex offender was living rough in Dun Laoghaire and was filmed in the Monkstown area on Saturday.
Sources said Ward took refuge in the reception area of Dun Laoghaire Garda Station yesterday afternoon after he was approached by individuals.
A short film clip has emerged showing a man identified as Ward (35) cowering on a chair as a young man moves towards him with his right fist drawn back.
In the video, which appeared on the 98FM Dublin Talks Facebook page, the assailant shouts at Ward: "That's the way the f***ing child was, you f***ing scumbag . . . you f***ing animal."
He then punches Ward twice in the head and tries to kick him before slipping on the tiled floor.
A man claiming to be the assailant's brother told the radio station this morning that he has never been so proud of him.
He said the man is being interviewed by gardai there.
A source told the Herald that there was "an operation
being worked on regarding that person".
However, it is believed Ward has since been moved from the station.
He is currently under the supervision of the Probation Service and An Garda Siochana under its Sex Offender Risk Assessment and Management (SORAM) scheme.
Under the scheme, released sex offenders who have been assessed according to their potential risk to re-offend must make their whereabouts known to gardai.
A man presented himself this morning to gardai by appointment. He was interviewed by officers, but was not arrested. A file on the matter will be prepared for the Director of Public Prosecutions.
Sources said Ward had been under surveillance while he was in Dun Laoghaire and was being monitored by gardai three or four times every day.
Only last month he was tracked down by a gang of vigilantes near a B&B in Ringsend.
Ward was staying at the guesthouse, which was only a short distance from a creche and a school.
He had been drinking in a nearby pub when he was spotted by a group of girls who recognised his face from newspaper reports.
They alerted a group to his whereabouts, and although Ward had left the pub they caught up with him.
Ward suffered minor injuries and was taken to St Vincent's Hospital.
READ MORE:
READ MORE: