Celeb Big Brother even makes hated Katie Hopkins likeable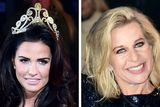 In recent years, critics and audiences were about ready to call the coroner on Celebrity Big Brother. The show had become a lame parade of wannabes, nevergonnabes and almost-rans: the 2014 series was the least-watched ever.
Hopes weren't particularly high for this year's hotchpotch of (barely known in their own) household names. The format was about as knackered as a donkey after the summer holidays, the names as disparate and downmarket as ever. Ken Morley? Jeremy Jackson? Kavana?
So how exactly did CBB stage the mother of all comebacks? Ratings have gone through the roof (3.2 million for last Sunday's show) and it has become the most tweeted-about show on the box.
I noticed something was afoot when friends started tweeting about their affection for it in a "sorry, not sorry" kind of way. It wasn't even a guilty pleasure any more: and now it's back on the water-cooler agenda. Mired in controversy from the off, Morley and Jackson were removed in Week 1 for skeevy conduct.
That left us with 11, among them gobby snob Katie Hopkins, self-proclaimed media superstar Perez Hilton, walking single brain cell Alicia Douvall, a couple of barely known models and nice guy Keith Chegwin. The mix of housemates might not look spectacular on paper, but stick them in a house and you've got lightning in a bottle. Add Katie Price, with her congenital TMI condition, and Celebrity Big Brother was officially off to the races.
The show is a stressful watch. The arguable pivot is Perez Hilton, who appears to enrage his housemates simply by breathing near them. Hilton displays such bewildering lack of self-awareness, not to mention borderline sociopathic tendencies, that you can barely tear your eyes away.
compelling
Giving him a run for his money is Hopkins, who has somehow become likeable. Even dead-eyed Katie Price, who rattles off gossip about herself with the detached manner of someone who has commodified her private life, is compelling. Something tells me the drama is far from over. Welcome back, CBB.
Moving from one show going from strength to strength to another that has gone off the boil: Sky Atlantic's heavyweight dramedy Girls. Four seasons in, and it's on the brink of piddling all over its own spectacular legacy.
We start this season with the show's protagonist Hannah (Lena Dunham) starting creative writing college in Iowa. For a show about four young women navigating the choppy waters of New York City life, this was . . . brave.
Last week, the remaining three female characters squeaked out a couple of lines, their own storylines suspended in mid-air. The problem is, a character as unlikeable as Hannah will always need a foil or two.
Girls has always borne the hallmarks of great comedy; brave, truthful and outlandish. On its launch three years ago it was a core-shaker with its cringey sex scenes and pangs of twentysomething yearning. Much has changed since then. It paved the way for other bright, funny, sharply observed for-her comedies, but Girls now finds itself being outrun by its successors.
Someone once said that to kill an artist you should give them everything they want, and this is true of Dunham. Creative validation, millions in the bank, a hot boyfriend - maybe the chasm between her and the overwrought, struggling Hannah is finally too great to bridge.
Celebrity Big Brother **** Girls **