Caravans were moved before tragic blaze that killed 10 on halting site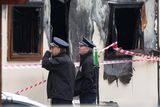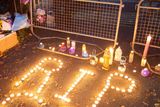 Caravans at the site of the tragic Carrickmines blaze which claimed 10 lives were moved as part of "upgrades" to the temporary site, Dun Laoghaire County Council have said.
The surviving members of the family who lived in the Glenamuck Road temporary halting site before it was wiped out by the blaze, have called for a public inquiry into what happened.
Five adults and five children perished in the fire. Willie Lynch (25) and Tara Gilbert (27) died alongside their daughters Kelsey and Jodie. Tara was four months pregnant.
Thomas Connors (27) and his wife Sylvia (25) and their children Jim (5), Christy (2) and six-month-old baby Mary also lost their lives in the fire. A brother of Willie Lynch, Jimmy (39), also died.
Amidst some concerns about actions taken or not taken at the site in the days leading up to the fire, family members have questioned a council decision to move some of the mobile homes on the site.
They believe that the close proximity of the units, including the one where the fire started, may have helped the fire spread more quickly.
Sinn Fein councillor Chris Curran questioned why the mobile home units on the site were moved.
In response, the council said: "Extensive upgrade works, including civil works, ground works, services and a total rewire of the electricity supply on the entire site, were carried out in March/April 2015. Some of the units were moved as part of these works."
The Herald asked whether the council was aware of any evidence that the re-positioned units could have contributed to the fire spreading more quickly.
"An investigation into the fire that caused the tragic deaths of the family at Glenamuck Road, Carrickmines, has not yet concluded. This investigation is being undertaken by the relevant authorities - Dublin Fire Brigade and An Garda Siochana. All parties have an obligation to await the results of this statutory process," a spokesperson said.
Cllr Curran also asked for a breakdown of what was spent on fire safety at the site, but the council did not provide one.
Instead, a figure of €9,345 was provided for the total spend on fire safety on all traveller sites in the area between 2013 and 2015.
extinguishers
In line with best practice, the council said that there were four fire extinguishers on site, which were regularly serviced - the last inspection took place in October. All units were also inspected regularly, according to the council.
Cllr Curran criticised the council for a lack of detail in their replies and called for a report into all Traveller accommodation.
"We are extremely mindful that we do not wish to hamper the investigations of the emergency services," he said.
"However, while we are waiting, there are still issues relating to Traveller accommodation, and we need to make sure that the events of October 10 never happen again."