Cambridge boss confident of taking United scalp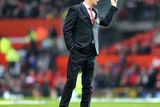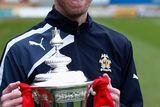 Cambridge's two Wembley wins have given head coach Richard Money confidence his side will perform against Manchester United in tomorrow night's FA Cup fourth round clash.
Whether it is enough for the U's to be giant-killers against a rebuilding Manchester United side of global superstars remains to be seen.
But Money's men have already proven their worth in winning promotion to the Football League through the play-offs and triumphing in the FA Trophy final last term, so the pressure is off on Friday night at The R Costings Abbey Stadium.
"We won two trophies last year. We've got a group of players that know what it means to win," Money said.
"We've been lucky that two trips to Wembley last year has given us some kind of thought process as to what might happen and what needs to be done.
"I've got absolutely no doubts that they will play well Friday night. If I look back to last year's semi-final here against Halifax and the final - those two games were far more important than Friday's, in terms of the future of the club and in terms of pressure and nerves.
"We played well on both days and I've no doubts the players will perform on Friday. Whether that's good enough is another thing. If they can be the best they can be, that's all we can ask." Cambridge are the lowest-ranked side remaining in the competition. Money's side returned to League Two this season after a nine-year absence from the Football League and are preparing for their third meeting with 11-time FA Cup winners Manchester United.
The U's lost a two-legged League Cup tie 4-1 in 1991, when Dion Dublin and Steve Claridge were among their ranks.
Money, whose side are unbeaten in 2015 after beating Luton in the third round, and Carlisle and Newport in the league, recalled the draw, adding: "You prepare yourself for the worst and when you get the best it's an incredible moment.
"I had a director standing behind me whispering 30 in my ear. I didn't realise that 30 was Man United until it came out.
"Everyone was jumping up and down."
Louis van Gaal's Manchester United were beaten 4-0 by MK Dons in the League Cup earlier this season, but Money places no significance on that result as he prepares his side.
"I don't see anything in that performance at all," Money added.
"The team that plays here on Friday night will be totally different to the team that played at Milton Keynes earlier in the year."