Bohs man is aiming for more derby success against Rovers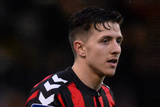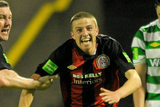 Medals have been in short supply, in fact non-existent, for Keith Buckley in his years of service for Bohemians.
So moments like scoring in, and winning, Dublin derbies against Shamrock Rovers have provided many of the high points, with the midfielder hoping for yet another night to the Hoops this evening.
Buckley has, in general, come away from the Rovers games with a smile on his face as Buckley has been beaten just twice his the 12 league games against the Hoops, and nights like the 4-0 win (2012) are as close to that trophy-winning feeling as Bohs have come in his time there.
"The games are always big, but this one is even bigger as we can go above them in the table if we win tonight. I know they have a game in hand but still, for us to be above them in the table would be massive for us," says Buckley.
"I'd love to win things at Bohs, I want to have a medal to show for my time here and it hasn't happened yet, but the Rovers game have been great memories, and no matter what happens, the Bohs fans have those derby wins to look back on.
"We beat them 4-0 a few years ago and I think that's a game that Bohs fans will remember for a long time. They beat Rovers 6-4 the season they won the league (2001) and while that was important in terms of going on to win the league, I think the fact that we beat them twice in one season, 4-0 at home and 1-0 in Tallaght, was like winning a trophy for some people.
"I've had a lot of good nights in the Rovers derby over the years so maybe I am a lucky charm for Bohs," says Buckley as his former boss Pat Fenlon prepares his Rovers side for tonight's trip to Dalymount Park.
"There are a lot of Rovers supporters in and around where I live, Pearse Street, and in the pub where I used to work so whenever the Rovers fans would slag me, I'd just answer back that I have one over on them from the last few years.
"I love the derbies, I don't know why but I always seem to do fairly well against them, back to my first game against Rovers when I scored and we got a draw," says Buckley, referring to a game in April 2011 when he struck the Bohs equaliser late on after Ronan Finn had put the then-champions in front.
What happened after the match said a lot about the life of a League of Ireland player. The media were waiting after the game to speak to Buckley but the Bohs youngster sped off without saying a word - not because he was a bigshot too important to speak, but because he already off on his bike towrds the city centre as he was due at work behind the bar of the Windjammer pub straight after the match.
Buckley's bike was back in focus last September when Bohs fans snapped Buckley hopping off the Luas to collect his trusty bike to cycle home after another Rovers derby, a 1-1 draw in Tallaght - hard to imagine a Tottenham or Arsenal player doing the same after their derby.
"I think as players we're close to the fans, we know how much this game means to them," he says. "Even in the last day or two, I had a Bohs fan who stopped me when I was on the way to training as he wanted to wish me luck tomorrow, but then yesterday I was on Mountjoy Square, a Rovers fan beeped his horn at me to give me stick about tonight. I love all that."
Rovers come to Dalymount on the back of a 3-0 loss in Derry last week while Bohs have back to back wins and clean sheets.
"Often we go into the Rovers game on the back of a couple of bad results and turn it around, I hope we can get something here," he says. "Rovers will be sore after getting that beating in Derry so I know how Pat Fenlon will be hurting, we just have to be more hungry than them."