Bronagh Gallagher 'It took 20 years to find confidence to sing after The Commitments'
Actress and soul singer Bronagh Gallagher tells how she balances stage and screen, and how The Commitments held her back as a singer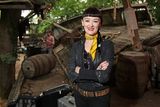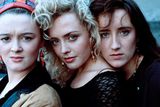 Bronagh Gallagher spent a long time trying to discover her musical feet.
The movie The Commitments was the Derry native's big break in 1991, but she said it took her years to stop comparing herself to others.
At just 18 years of age Bronagh was cast as Bernie McLoughlin in the movie based on Roddy Doyle's 1987 novel.
It was a huge coup but Bronagh said the experience was a disheartening one in terms of her confidence when it came to performing.
"It's something I've come to a lot later in my life, singing and I think a lot of it was to do with confidence," Bronagh explains.
"I was only 18. I had no confidence to get up and sing; they were very high standards that I was surrounded by, so it made me feel 'well what's the point in doing it if I can't do it as well as that?'
"It's taken me sort of 20 years after The Commitments to actually feel that I can stand up and sing as a soul singer and pull it off."
At the time, acting was Bronagh's main passion. These days, however, life is a mixture of music and a variety of acting interludes.
hobby
"Singing then was my private hobby," Bronagh explains.
"But I used to bring a bag of tapes everywhere. I think that everything happens when you're ready and it's good to do things with work behind you.
"Acting was my passion, but in the later years I was jotting down ideas for songs and writing songs and now I just feel I have got the right people behind me.
"We have got a very strong work ethic and we are over the hill of our third album and we are actually on the way to the studio now so we are going to have a new album out next year.
"I think you need people to see you for what you are; get the work done and then rock it, you don't want to be out there thinking you're Keith Richards and you haven't got the songs," Bronagh laughs.
"It's good to be humble. There are so many crazy people in the music business."
Bronagh followed up her role in The Commitments with small parts in two major films - Pulp Fiction and Star Wars: The Phantom Menace - before going on to tour the world with British theatre company Complicite.
She starred in the theatre production of War Horse and has also appeared on a variety of TV sitcoms and dramas for the likes of the BBC.
Music and drama were a form of escapism for Bronagh as a child, while growing up in Derry at the height of the Troubles.
"The riots were full on, it was the years of the Troubles and you just had to be very cautious and careful all of the time, but with Derry being a port town there was always great reference to soul music and rock and roll because it would be brought in," Bronagh says.
"I grew up in a house of music. My parents would have been big Mods in the 60s, so we had a lot of soul and a lot of rock and roll about and my father would have been a big country fan too, so there was always great records in the house, that's all I ever knew," Bronagh adds.
"I was never really one for reading or for TV, it was always the vinyl. My mum from 11 or 12 on would get me my own records; I think I was wearing holes in hers."
Bronagh is currently in the studio recording her fourth album, which she hopes to release in February 2016.
exposure
However, the element of exposure necessary for songwriting is something she admits she is still learning to get to grips with.
"The older you get maybe you are a bit more vulnerable and a bit more self-conscious about getting up and singing about certain stuff," she explains.
"A couple of very cool, well known singers who I have spoken to recently were asking how the album going and I was saying basically 'do I want to stand up and sing about this?," she says
"Do I want to stand up and be exposed or, you know, talk about disappointment?'
"They were saying 'get up and rock it', that's what soul singers sing about and it's true.
"But you can also become characters and that's the artistic licence, I suppose. You have to keep something for yourself and I am learning to do that," she says.
Bronagh admits to writing some songs about particular people in her life.
"It's very cathartic. When you hear all great songs they are about people and relationships and people who you thought you knew who they were, but they were not that person," she explains.
"You never forget an act of kindness, but you never forget an act of cruelty either."
When I ask if there is anyone special in Bronagh's life these days she replies with a laugh, "no, that's all in the can."
Bronagh is currently working between Dublin and London, where she is filming a new US drama series for Sky One and NBC, which will air in September.
However, she does get home to Derry, where she is an active patron of the Foyles Hospice, as often as she can.
From September she will be gearing up for getting back on the road with her band and kicking off with a number of fundraising concerts for the hospice in Derry.
"There is a great quote from the producer Arif Mardin of Altantic Records, who said 'it's a wonderful life, this life of music,' and it really is, but it is an extremely hard life as well," Bronagh says.
"If you are lucky and you get the breaks and have success it is such a wonderful thing to witness and it is great to see people, who I have known a long time finally see some success and financial gains because it is a really tough business.
"The music community is - thank goodness - very tight, and in Dublin it is very small, so there is a great support between musicians because people know how hard it is but how fun it is as well."
Bronagh Gallagher will perform in Art of the Song: Carole King's Tapestry at the National Concert Hall on July 17