Broccoli for breakfast used to be my diet but I'm wiser now - model Roz Purcell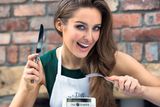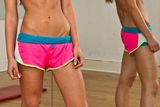 SHE's a fitness fanatic with a deep knowledge of the correct nutrition required for training, but for model Roz Purcell her diet used to be a lot less varied.
The former Miss Universe Ireland (right) has spoken about the odd eating habits she engaged in while living in the US.
The Tipperary native was signed by pageant boss Donald Trump after her stint representing Ireland on the Miss Universe stage.
At the tender age of 18 she spent months living in the Big Apple in a house with other models.
"When I was modelling in New York it was quite tough. Obviously I'm from a country background so there was a very wholesome upbringing of 'always finish your food' and all that," Roz said.
"I had no idea about nutrition. I would get up and go for a run in the morning and come back, and my idea of eating healthy was having a bowl of broccoli for breakfast.
The brunette admitted that she and fellow models would restrict themselves all week and then eat "disgracefully" on the weekends. As a result of her inconsistent diet, Roz developed an under-active thyroid.
Metabolism
"I got quite sick. My metabolism just shut down from having no sustain- able or regular eating patterns," she said. After being prescribed medication, Roz decided to take a different approach and researched the benefits of good nutrition.
"Within six months I had cured myself. I ate no processed foods, had regular meal patterns and began training for shorter intervals but maybe twice a day," she said.
Thanks to her mouth-watering Instagram posts and popular foodie blog Natural Born Feeder, new opportunities have begun to present themselves.
Most recently, Roz has collaborated with Mooch Fro-Yo in Dublin's Dawson Street to come up with a more wholesome approach to their popular treats.
"We're all getting on to that health and fitness buzz in Ireland. They wanted to do a healthier menu so I came in with the suggestions," she said on RTE's Saturday Night Show.
When asked about how practical and economical her food choices are for the average person, Roz does admit she spends a lot on ingredients.
"Everyone asks me what I spend my money on. It used to be clothes but now it's food," she said.
hnews@herald.ie