Brendan Rodgers: We didn't want to sign Memphis Depay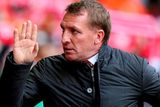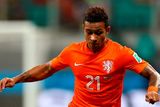 Brendan Rodgers claims Liverpool made no attempt to sign Manchester United-bound winger Memphis Depay.
Depay's representatives held talks with Anfield representatives, as a PSV Eindhoven spokesman confirmed on Friday morning. "Liverpool contacted us and talked with the player," he said. "They were also one of the clubs interested but at the end Memphis had the final decision and he chose Manchester United."
However, Rodgers insists there was no interest in signing the 21-year-old.
United announced a £25 million deal for the youngster on Thursday, with Depay revealing he had turned down other Premier League clubs.
"It was not something that we were interested in," said Rodgers.
"He is a young, talented player but we already have four players at the club in his position so we have other priorities we are looking at over the summer. With the players we have we are well stocked in that area."
Memphis Depay
Liverpool are acutely aware they are gaining a reputation for losing out in head-to-head transfer battles with their nearest rivals having previously lost players to Chelsea, Arsenal and Tottenham Hotspur.
There is no doubt, however, that a goalscorer is Liverpool's main focus over the course of the summer.
That has become even more apparent with Daniel Sturridge out for the next four months following hip surgery.
"We anticipated that Daniel will be back to train around September," said Rodgers.
"We are hopeful that problems and issues have been resolved. Unfortunately it has been on-going situation for him. He has been a big miss for us. The important thing will be to let him to recover and let him work on his rehabailitation. He has gone to one of the world's leading specialists in America and hopefully he will come back better."
Van Gaal was more than happy with Depay's contribution at last summer's World Cup
Rodgers has also dismissed suggestions Chelsea's players four day break since winning the title will make this weekend's trip to Stamford Bridge any easier.
"Chelsea are deserved champions and congratulations to them. If they have had a few days off, they deserve it," he said.
"Sometimes the break can reinvigorate you. And Jose may want to play some young players who will be motivated to do well. Whatever team they play will be looking to win the game so Chelsea's days off are an irrelevance to us. They are top players, and every game is important and they will look to win it."