Branislav Ivanovic accused of headbutting James McCarthy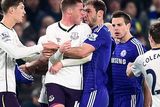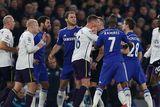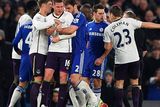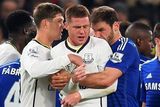 Daniel Johnson
Telegraph Media Group Limited
Chelsea were plunged into a fresh disciplinary row on Wednesday night after Branislav Ivanovic was accused of headbutting Everton's James McCarthy in the dying minutes of their 1-0 win at Stamford Bridge.
Jose Mourinho, the Chelsea manager, refused to discuss Ivanovic's actions, threatening to walk out of a feisty press conference. Everton counterpart Roberto Martinez said the 30-year-old should have been sent off and he was unhappy to see Chelsea win the game in that manner.
Ivanovic avoided censure from the referee but could face retrospective action from the Football Association over the incident. In a melee shortly before Chelsea's 89th-minute winner, Ivanovic first put his arm round McCarthy's neck before moving his head towards the Everton midfielder.
There was even a suggestion Ivanovic may have tried to bite McCarthy. Asked if he was concerned that the defender could be suspended, Mourinho said: "I'm concerned with my reaction, because one more question I leave and then you are not happy. The next question for that story I have to go."
In an earlier television interview, Mourinho said: "Did Branislav Ivanovic go in with his head? Don't make me laugh. Don't make me laugh." Mourinho also apparently walked out of a BBC interview when asked if he would punish a player if replays showed they had committed an offence.
Mourinho has already shown his displeasure this season at Diego Costa being suspended retrospectively for three matches for stamping on Liverpool's Emre Can and last month was fined £25,000 for saying there was a "clear campaign" against Chelsea
After a self-imposed silence, the Chelsea manager was back on the warpath on Wednesday night. "I'm tired of stories and I'm never tired of football," he said. "Football is emotion and what we had here today.
"A discussion because of a red card, a red card that should be given in the first half, because [Gareth] Barry should be sent off in the first half. He pulled [Eden] Hazard. The second yellow card should be given there."
But Martinez, whose side are now just five points above the relegation zone, criticised both referee Jonathan Moss for giving Barry a second yellow card as well as Ivanovic for his confrontation with McCarthy. Martinez said: "The last action [booking Barry] is a free kick but giving a yellow card is very harsh. The disappointment is the left back is running 25 yards to run to the referee, and you don't want to see that. And then the red card gives an unfair momentum which allows them to score a goal.
"When you look at the images of Ivanovic's behaviour, it's wrong. It shouldn't be allowed. First of all he puts his arm round James McCarthy's neck. And then he puts his head against him when James never reacted one single bit. And if you want to be fair with the laws then that's a red card and we got nothing out of that moment.
"I think they'll win the league but you don't want to see teams winning games in that manner."
Mourinho also said Chelsea should have had a penalty in the fourth minute when the ball hit Steven Naismith's arm. "I think it's a clear penalty," the Chelsea manager added. "I also think the referee had a fantastic performance."
After Willian's 89th-minute strike, Chelsea lead Manchester City by seven points, and Mourinho admitted this was the sort of win which could prove crucial.
"I don't remember a team to be champions without a couple of victories in the last minute, in my case for sure," he said. "Every time I won the league title I had a couple of matches where we won in the last minute, and it was the first time this season. It was a very difficult match. A very different Everton, and I mean that as a compliment not a criticism. They were a very difficult opponent."