Boyle - 'This is the chance of a lifetime for us'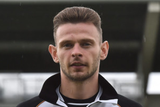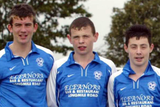 Everything about the last few days has screamed the same thing to the Dundalk camp. This is different.
A club who average 2,500 people for home games will have at least ten times that amount of support in Dublin tonight for their Champions League battle with Legia Warsaw, a crowd that will hopefully tip over the 30,000-mark with a few walk-ups for the game this evening.
The minor details which club officials had to deal with, like the removal of all branding by the title sponsor in the Lansdowne Road stadium, a job carried out diligently by an army of volunteers. The sight of men in UEFA blazers scurrying around, politely but firmly directing operations, just shows what this all means.
Stephen Kenny and his staff, and Dundalk's officials, can only do so much to make this a perfect playing field for the squad but it's the players who now take on the burden of trying to achieve what would have seemed like an impossible dream.
"It's the chance of a lifetime and we are all aware of that, we know that your football career is very short and we might never have this chance again," Dundalk defender Andy Boyle told The Herald as he prepared for the biggest one-off occasion of his career.
"Shels went close a few years ago but didn't make it, now we are 180 minutes away from the group stages of the Champions League and all that comes with that, we know it would be an amazing experience.
"It feels real now, it's been a long while coming since we beat BATE but we can't wait, it's something that us as players really want to be involved in and we know it's a massive chance for us. We're playing a club with a very good European pedigree, a really good side. No one gave us a chance against BATE and we did the job so we'll be positive for this tie and the aim really is to get into the group stages."
A Dubliner playing for the Co Louth club, Boyle senses the occasion in the air. "There's definitely more interest in this game, even for me walking around Palmerstown, just going into the shops, everyone is talking about the game and it's not just Dundalk fans who are looking forward to it, it's great to be involved with," he says.
Various parts of the Dundalk machine come into this game from different paths. A decade ago, manager Kenny would have tried, and failed, to outwit big clubs like Rosenborg (with Bohemians) and Paris St Germain (with Derry City). Someone like Gary Rogers comes into the tie with vast European experience (26 ties) under his belt.
Dubliner Boyle, now 25, never dreamed he'd get to this stage - a decade ago he effectively turned his back on The Big Time, having watched Crumlin United team-mates like Conor Clifford and Gavin Gunning go to the UK.
"When I was younger I was on trial with clubs across the water but when I got to 14 or 15 I decided it wasn't for me, that idea of going away to play. I decided to stay at home and get my education," Boyle admits now.
"I used to watch League of Ireland matches when I was younger so I always had an ambition to play in the league, once you are in the league you want to play at as high a level as possible.
"I had offers to sign for clubs, I just felt that being away from home would be too tough and I really didn't think that scene was for me, going away to England at 16 and I have no regrets about it. And it's worked out pretty well for me."
When he had those battles with the likes of PSG, it wasn't that realistic for Kenny to hope for success but now, Boyle feels, it's credible to think of progress. Legia are a club who have been starved of Champions League football for 20 years and with their financial clout, their highly-ambitious wealthy owners and their shiny new stadium, making it past Dundalk is seen as something they simply have to do.
But Boyle feels Dundalk have a role to play in the tie.
"I think it is doable," says the former Shelbourne defender.
"We know how good they are, Legia are a very good side but we showed at home to BATE that we can mix it with the top teams, to beat a side like BATE 3-0 is very impressive."
Dundalk v Legia Warsaw, Aviva Stadium, KO 7.45 (live RTE2/BT Sport 3)