Big two - or one in a million?
After Dublin's tour de force, test for Mayo looks even greater now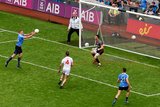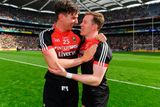 For Mayo, it was a most un-Mayo-thing to do. Beating Kerry in summer for the first time in 21 years. In a replay. With a ruthlessness more commonly associated with, well, Kerry.
All of which left the neutral public - not just the green-and-red masses - genuinely upbeat on Saturday night.
They presumed that Dublin would win the next day, for sure, even if it required a struggle against Tyrone.
But they also suspected that here, in the guise of this familiar yet emboldened and now bang-in-form Mayo, was a team that might - just might - have what it takes to slay Jim Gavin's Sky Blue Goliath ...
And then the same public watched Dublin do their thing about Tyrone. Do it better than we've seen in quite a long time.
And they asked: "Are we kidding ourselves?"
The case for Dublin
A strange facet of Dublin's dominance under Gavin: while Leinster cakewalks are a rite of passage, and quarter-finals usually negotiated with minimal fuss, they never get it easy in late August or September.
Sunday was different: Tyrone were meant to be a heavyweight, their top-four credentials bolstered by back-to-back Ulster titles and a history of pushing Dublin into the tightest of league corners.
What transpired was Dublin's finest display under Gavin against a supposed contender. Were Tyrone vastly over-rated on the back of an Ulster championship that has lost its All-Ireland relevance? On this sorry evidence, yes.
But it wasn't the first time this summer that a team earned lavish plaudits on the back of an emphatic string of results ... only to meet their Sky Blue maker, rendering all previous opinions null and void.
Think of Kildare: they looked a coming force after demolishing Laois but more especially Meath. Yet for all the courage of their second-quarter fightback, that Leinster final was effectively over after 11 minutes.
This is what Dublin do to mere mortals ... they locate your weak point and go for the kill. Westmeath and Monaghan were buried in a blizzard of first half points. They drained all hope from Tyrone in the first dozen minutes and then toyed with them for the remainder.
By now, the debate has moved on from are they better than the Dublin '70s team to have they eclipsed Mick O'Dwyer's Kerry as the greatest team ever? Even Pat Spillane is harbouring such previously sacrilegious thoughts.
Their qualities scarcely require rehashing: an abundance of natural talent; a surfeit of speed merchants to leave rivals trailing in their wake; frightening intensity allied to technical expertise in the tackle; game intelligence; leadership in spades; a decorated bench to die for.
Can Mayo really hope to stop all that?
The case for Mayo
There are several reasons for cautious Mayo optimism, whatever about misguided confidence. They include:
1. Serious momentum. Three huge performances on the spin. They are playing far better now than 12 months ago ... remember that semi-final fright against Tipp?
2. Attack, so long perceived as Mayo's Achilles heel, has flourished in four of their last five outings: Cork, the Roscommon replay, and both Kerry games.
3. After nine roller-coaster games, it may be a statement of the bleedin' obvious that Mayo are road-tested far more than Dublin.
They have stared into the abyss so many times; they haven't blinked.
Could that help them in the home straight against rivals who, primarily because of their own excellence, haven't faced any such moments of doubt?
4. History. Mayo have yet to beat Gavin's Dublin but the margins (in 2013, 2015 twice and twice again last year) have been incredibly fine.
5. Physicality. This is one area where Mayo might, conceivably, have the edge. Plus they will engage Dublin on the front foot - unlike Tyrone.
6. The great hunger.
And even all that will not be enough if Dublin bring their A-game to September.