Being a mum made Hollywood take me seriously - Sienna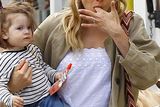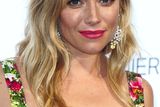 Sienna Miller says having a baby might have been a personal turning point and also when people started to take her seriously as an actor.
Before Marlowe, her daughter with actor Tom Sturridge, was born in 2012, Miller was probably better know for her "quite chaotic" love life which included relationships with actors such as Jude Law and married Balthazar Getty.
She accepted that some film executives and casting agents might have worried about putting "people they don't approve of" into their movies.
The 32-year-old told a Sunday newspaper: "I think having a baby really changed everything, if I'm honest. The stakes are higher.
"You have someone that you want to be proud of you eventually."
Motherhood made her aware of her own mortality but also probably helped persuade people in the film industry to hire her, she said.
"I'm still whoever I was. Maybe more mature, but the same. So amongst that ignorant, ridiculous area of my industry, I'm sure opinions of me have changed because I'm a mother now."
Miller is appearing in the Clint Eastwood-directed film American Sniper, opposite Bradley Cooper.
She said she regrets having to be a witness in last year's hacking trial against former News of the World editors Andy Coulson and Rebecca Brooks because it returned her to being front-page news, with her name also linked to James Bond actor Daniel Craig.
Miller, who was filming in Boston and gave evidence over a webcam, recalled:
"We spoke after Jude had done his (testimony) and he said, 'Do not do it. Get out of it'. And I couldn't."
AFFAIRS
"Somehow what came out of that was that I'd been having these affairs. Which was not the case. Suddenly Jude and I were on the cover of the newspaper again. The timeline was all off. You know, it was just horrible to be back there," she said.
"It was handled really badly. They wheeled people out for the show and I got thrown under the bus a bit. "
hnews@herald.ie