Barnardos chief Fergus Finlay 'lucky' after dolphin attack in Aran Islands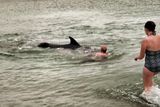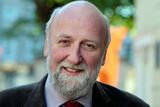 Barnardos chief Fergus Finlay has said he is "very lucky" after escaping unscathed from a dolphin attack in the Aran Islands.
The former Labour adviser was swimming around Inis Oirr harbour with his daughter and two grandchildren when the dolphin, known as Dusty, head-butted him full force in the upper thighs.
The dolphin was known for erratic attacks when she was in Co Clare, and since a move to Inis Oirr last year signs have been put up around the harbour warning swimmers to be careful.
Mr Finlay told the Herald that his ordeal left him with a couple of bruises, but it could have been a lot worse.
"She started flapping her tail in the water and I thought she wanted to play. She didn't," he said.
"She came straight at me and sort of rammed me with her head into what I'd politely call my upper thighs and knocked me off my feet.
"She then turned, moved back a bit and waited to see what my next move was.
"What I did next was get out of the water quickly."
Mr Finlay (65) said that in hindsight he would not have moved towards the dolphin at all, but he mistook the tail flapping as a sign of playfulness.
"She didn't want me in her space, so she took the action that she thought was appropriate - it was very frightening," he said.
"I thought for a second she was going to go under and try and flip me over, and I really don't know what I would have done then because I used to be quite a good swimmer but I don't have the fitness for it any more."
However, Mr Finlay refused to blame Dusty.
"I should have read the warning signs. She had been very playful with the kids up until then, so maybe she just didn't like the look of me," he said.
Read Anton Savage: Page 15