Barcelona ready to unleash Suarez on City
Barca hoping to see best of Luis at Etihad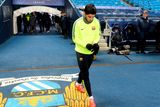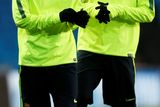 Luis Suarez's life has changed considerably since his last appearance in an English football stadium, when he paraded Anfield holding his son in his arm after Liverpool missed out on the league title on the final day of last season.
In the intervening seven months, he has bitten another opponent - this time at a World Cup - to get a four-month worldwide ban, changed clubs to become the third most expensive footballer of all time, and gone from the main man at Liverpool to one of the supporting cast at Barcelona.
Now he's back in England for tonight's Champions League match against Manchester City, seeking a first standout game for Barcelona to emerge - even if only briefly - from the shadow of the club's star player, fellow forward Lionel Messi.
Read More:
"At Liverpool, the team was built around him," City midfielder Samir Nasri said. "At Barcelona, you cannot do that when you have Messi at his prime."
Suarez is the current player of the year in England after scoring 31 goals in 33 Premier League games last season. At Barca, goals have been tougher to come by for the Uruguay international, with seven from 22 appearances. Indeed, the $130-million signing has been regarded more as a hard-working assist-maker than the scoring machine he turned into in England. His star-studded combination up front with Messi and Neymar is starting to blossom, however, and Barcelona coach Luis Enrique is happy with how his Suarez has settled.
Read More:
"He has been doing really well," Enrique said Monday, on the eve of the first leg of the last-16 match against City. "It is his first season here and he is a real reference in attack, a real target man. He has got virtues that really benefit us.
"He is good on the ball, he allows other forwards to work around him, he creates space. He is going to bring a lot to Barcelona in the future."
Suarez scored only once in six matches against City for Liverpool, and that was a free kick. City, though, knew it could focus largely on Suarez when he was at Liverpool. Attacking threats will come from all over in Barca's team on Tuesday, although primarily from Messi.
After a mid-season slump, in which doubts were raised about Messi's future at Barcelona, the Spanish giants looked back to their best during an 11-match winning run that helped them close the gap to leader Real Madrid in the Spanish league and advance to the semifinals of the Copa del Rey.
A 1-0 La Liga loss to Malaga on Saturday was an unexpected setback, though, and Enrique has spent much of the build-up to the City game playing down suggestions that problems from earlier in the season have resurfaced at the Camp Nou.
"The morale is fine. No one is too down," a prickly Enrique said. "I don't see why the team should be down after such a great run of victories. We didn't do things right at the weekend. We need to carry on doing things as we have been."
Enrique said he viewed City, the reigning English champion, as one of the contenders for the Champions League trophy even though it has never advanced beyond the last 16 of the competition. Barcelona beat City 4-1 on aggregate at this stage last season.
"I don't think there is a favorite in this game," Enrique said. "City have strengthened in the summer, we have too. And we have changed. It was necessary for Barca to move on and bring in new players.
"What happens on the pitch will show if the gap has closed."