Barber who was once homeless organises gigs in shop to help those in need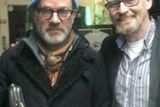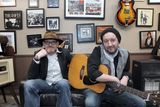 A once-homeless man is raising charity for those who find themselves living on streets by organising music events.
Peter Meade (55), who works in a Dublin city barber shop, told the Herald how he hopes this weekend's gigs will raise much needed funds.
He is originally from Crumlin.
"Technically I was homeless for five years as I was living in The Iveagh Hostel. I had no home of my own but I was lucky enough to have a place to stay.
"I became homeless nine years ago due to my own fault. I got very ill from depression and I ended up in hospital for 10 weeks feeling quite suicidal," Mr Meade said.
"One day I got my clothes back and I left the hospital to go and commit suicide. I was planning to walk under a train and I was just about to cross the Merrion Road to go over to the Dart line and an old woman grabbed my arm and said; 'Son, would you help me across the road?' and that 10-second walk changed my whole life," he recalled.
"I got myself together and now I work in Abner Browns Barber Shop in Rathmines and the owner Dave was fantastic in letting me come in and get my confidence back to start working again.
"Last November I got a place out in Tallaght so now I'm back paying rent and looking after myself. We run gigs in the shop every Saturday night and through those I have met dozens of musicians who are happy to help me out and play the gigs for me," he said.
"I ran the first gig back in January in The Mercantile and Sweeney's on Dame Street on the same night, and we raised €700 for the homeless. We have the next one this Sunday, March 1 in the same places with nine bands and five solo acts with a suggested donation of €5.
"The charity I support is the Inner City Helping Homeless and the Lord Mayor Christy Burke is one of the patrons of that charity. I'm very pleased to be associated with him."
While Peter got his life back together he says that the hardest part of it was dealing with the government.
Dignity
"The most difficult thing for a homeless person trying to get out of that situation is reintegrating with society. You have to get your own identity and dignity back and it took me two months from signing off social welfare as a homeless person as the red tape you have to deal with is absolutely ridiculous.
"A lot of the people out there on the street are illiterate or badly educated, which is not their fault, but they need help, they don't need to deal with a load of bureaucracy," Mr Meade said.
hnews@herald.ie