Liverpool 4 Borussia Dortmund 3 - Liverpool stage a stunning comeback to deny Dortmund and keep Europa League hope alive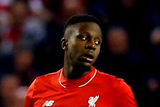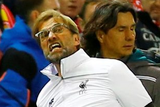 Liverpool have form for stunning European comebacks and this will go down alongside the best of them as they snatched an added time winner to beat Borussia Dortmund in a modern-day Anfield classic last night.
All hope seemed lost at 2-0 down - 3-1 on aggregate - after 10 minutes and 3-1 (4-2) but the hosts dug deep and produced a remarkable turnaround which saw Dejan Lovren score a dramatic winner.
Manager Jurgen Klopp's assertion back in November that "we decide when it is over" rang true as his players, while not of the 2005 Istanbul vintage, gave every part of their being to put them into the Europa League semi-final.
Henrikj Mkhitaryan and Pierre-Emerick Aubemeyang put the visitors ahead early on, cancelling out Liverpool's away goal in Germany, before Divock Origi's fourth goal in his last three games offered some hope.
Marco Reus appeared to have extinguished hopes but Mamadou Sakho and Lovren, both central defenders, proved to be the unlikeliest of heroes on a night when Klopp's side came of age.
Attack
Dortmund boss Thomas Tuchel had promised to attack with impunity and score "two, three or four goals" and his side carried out his instructions to the letter.
In a blistering start which left their host shell-shocked Dortmund effectively dumped Liverpool out of the competition inside 10 minutes with the sort of football on which they have made their name.
Liverpool lost possession on their left in Dortmund's half and they countered; Aubemeyang's volley from Gonzalo Castro's cross was worthy of a goal but Simon Mignolet saved well only for Mkhitaryan to fire home the rebound.
With the away goal cancelled out Dortmund went for the jugular with another swift counter-attack seeing Marco Reus's brilliant pass in behind Sakho superbly dispatched with ferocious power by Aubameyang.
Recover
Liverpool took a while to recover but they responded encouragingly with the Kop's new hero Origi having three chances, Roberto Firmino heading wide and Adam Lallana completely fluffing his shot in front of goal.
However, twice Aubameyang could have finished the tie before half-time as he missed Lukasz Piszczek's cross in the six-yard box and then scuffed wide Reus's pass.
If Dortmund's start had been electrifying Liverpool's opening to the second half was not far off.
Less than three minutes after the break Origi poked Emre Can's through-ball past Weidenfeller for his fourth goal in three matches and the newly-installed roof on the half-constructed new Main Stand nearly came off.
For a few fleeting moments there were dreams of an Istanbul-style comeback but the reality is this side are a pale imitation of the one which stunned AC Milan in the Champions League final 11 years ago - and Dortmund are a team with far more energy than the Italians.
Within 10 minutes Reus had made it 3-1 to seemingly put the game beyond their hosts after another exquisite pass inside the full-back, this time by centre-back Mats Hummels.
Anfield visibly deflated and only did it regain some of its life with the appearance of Daniel Sturridge and Joe Allen on the hour.
It was just the lift the team needed and when Coutinho drilled home from the edge of the area hopes of achieving Mission Impossible rose again.
Sakho's stooping header 13 minutes from time made it even more likely as Dortmund tried to shut down the game, almost abandoning any attacking intent for the sake of self-preservation.
It proved in vain as in the first of four added minutes a clever free-kick saw Sturridge backheel the ball to Milner who crossed for Lovren to head in.
Glorious
The famous old ground, which has seen many a glorious European night, shook to its century-old foundations.
Dortmund had one final chance to snatch it with the last kick of the match but substitute Ilkay Gundogan curled it just wide and once again there was an explosion of joy and relief.
At the final whistle Klopp lined up his players in front of the Kop to take the applause of a crowd who had more than played its part and the plaudits were well deserved both on and off the field.