At least 14 killed in riot outside Cairo stadium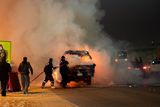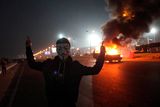 A riot broke out Sunday night outside of a major soccer game in Egypt, violence that killed at least 14 people, Egyptian state television reported.
The violence, only three years after similar violence killed 74 people, began ahead of a match between Egyptian Premier League clubs Zamalek and ENPPI at Air Defense Stadium just outside of Cairo.
State TV, citing prosecutors, said the violence killed at least 14 people and that an investigation into the riot had begun. Zamalek fans said the death toll likely was higher.
What caused the violence wasn't immediately clear. Security officials, speaking on condition of anonymity as they weren't authorized to speak to journalists, said Zamalek fans tried to force their way into the match without tickets, sparking clashes.
Zamalek fans, known as "White Knights," posted on their group's official Facebook page that the violence began because authorities only opened one narrow, barbed-wire door to let them in.
They said that sparked pushing and shoving that later saw police officers fire tear gas and birdshot.
The group later posted pictures on Facebook it claimed were of dead fans, including the names of 22 people it said had been killed. The Associated Press could not immediately verify the images, nor their casualty count.
Egypt's hard-core soccer fans, known as Ultras, frequently clash with police inside and outside of stadiums. They are deeply politicized and many participated in the country's 2011 uprising that forced out President Hosni Mubarak.
The deadliest riot in Egypt soccer history came during a 2012 match when Port Said's Al-Masry team hosted Cairo's Al-Ahly. That riot, at the time the deadliest worldwide since 1996, killed 74 people, mostly Al-Ahly fans. Later that year, angry fans burned down the headquarters of Egypt's Football Association, protesting its decision to resume matches before bringing those behind that 2012 riot to justice.