Aoife expects another exciting close contest
Dublin defender says it's good to enjoy build-up before big match at Croke Park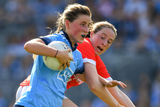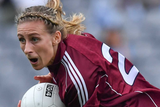 Aoife Kane pulls up a chair. It's the Dublin Ladies Football Press Night at DCU.
Her mind drifts back to her school days at Coláiste Íosagáin. On the Stillorgan Road.
It's one of the most prestigious schools in the country now. An All-Irish speaking school.
It had very humble beginnings. On the grounds of the Carysfort Teacher's Training College in Blackrock.
Several of Aoife's Dublin colleagues also attended Coláiste Íosagáin - Éabha Rutledge, Niamh Collins, Martha Byrne and Sinéad Goldrick.
Tony Gregory taught there. And that great hurling man, Colm Mac Séalaigh, was just across the corridor in Coláiste Eoin.
The Coláiste Eoin principal is Prionsais de Poire, son of one of Ireland's greatest boxers, Harry Perry.
"We had a good team in school and we won the All-Ireland Colleges title," recalls Aoife. "We beat Aisling Moloney's school, Cahir from Tipperary, at Dr Cullen Park. That was my first big success, and it was one of the great days of my life."
Cherish
She's hoping for another one on Sunday. These are the days you'll remember. Aoife says it's important to cherish them.
The hours sprinting down to an All-Ireland final in Croke Park. Build-ups don't get any better.
"After the semi-final, the final seemed liked ages away. There's the massive build-up and then it almost comes so quickly.
"It's important to enjoy the lead-in to the game rather than being caught up with nerves," states Aoife.
"I get nervous before games. I think it's a good thing. It helps to keep you on your toes.
"And if you weren't worried about running out to play in Croke Park, I'd be worried. Yet, at the same time, I try not to think about the game until the day of the match."
She's at DIT now. In her final year of economics and finance. "My parents work in investment and that's a route I'd like to follow myself. I'd like to go into something to do with capital markets. I'm looking to do an intern-ship next summer and get a taste of what I want."
She made her senior championship debut in 2017 in the All-Ireland quarter-final against Waterford.
"I came on in a couple of the matches last year, but this season I feel I have got a stroke of luck and I managed to hold onto the jersey. It's probably the first year I have gotten into my stride. And I'm really enjoying it."
And her form would tell you that. Helping to keep Dublin's back door firmly bolted and also well capable of driving forward and adding to the attack.
She feels that there could be a sharp pace to the final. "We know Galway well. Every time we play them, it's always a good match. It's always close.
"And that's what we are all looking forward to the most. It will be a great match. And it's a big challenge for both teams.
"Galway have had a lot of success at under-age level. And they have wise heads on their shoulders.
"They are a bit like Kerry in that the younger players are a key to their success. They are a really fast-paced team."
Dublin also contain much wisdom in the boots. "We got Siobhán McGrath back last year and she has added a huge dynamic to the team. She works so hard.
"The more experienced players bring so much to the side. You can't really express the value that they add to it. And the guidance they provide for the younger players who look on them as such leaders."
Aoife plays for Kilmacud Crokes. As do her colleagues, Éabha Rutledge, Lauren Magee and Rachel Fleming.
In Dublin club football, they came up against Galway's Sinéad Burke, who plays for Ballyboden St Enda's.
"We played Boden just before the Leinster final. She's a brilliant player. She drives forward for Boden, and she does the same for Galway."
There will be a big crowd heading in on the N11 to cheer on the Jackies. And all are hoping for another huge attendance.
"I don't think the Dublin-Kerry replay will take away from the crowd on Sunday. But that's something we can't be worried about. It's outside of our control. It's just the way it panned out this year.
"We'll all be supporting the men. I'm looking forward to watching that game again."
And, hopefully, climbing the stairway of the sports highest mountain - the steps of the Hogan Stand.