Angela Scanlon lands a rocking new role presenting from top festival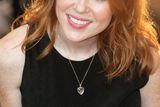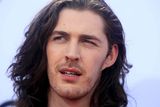 Presenter Angela Scanlon has landed a new role with the BBC covering one of Britain's biggest music festivals.
The flame-haired broadcaster (31) revealed she will be presenting live coverage for Scottish event T in the Park later this month for BBC3.
With a line-up including The Script, Hozier and Sam Smith, the three-day event takes place on July 10 to 12 and is one of Britain's top festivals.
Speaking to the Herald, Angela said she's hoping to catch some acts when not filming.
"It's really exciting - I've known about it for a few weeks but I haven't been able to say anything," she said.
"I'm a big festival fan but I've never been to T in the Park so I'm looking forward to it. The line-up is incredible and there's a lot of artists that I'm really into, which is always a plus."
The bubbly Meath native will be co-presenting the Perthshire festivities with radio star Clara Amfo, who recently took over Fearne Cotton's BBC Radio Radio 1 slot.
Hozier
The RTE star, who is also filming holiday show Getaways at the moment, said she's a "big fan" of Clara's and is looking forward to working with the presenter.
"We'll be on Friday, Saturday and Sunday live in the evening and that will include anything interesting that may have happened during the day so I think there'll be an opportunity to get around and catch some of the acts as part of the coverage," Angela explained
"Clara is brilliant - I've met her a couple of times and I'm a big fan of hers. It's going to be two women presenting which hasn't happened in a very long time so I'm very happy about that ," the redhead added.
While Angela has previously worked with the BBC as digital presenter of the Voice UK's online show, her new presenting role will be her first for BBC3.