Alicia makes me a better actor, reveals Domhnall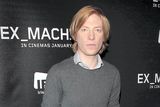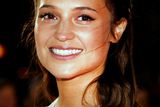 Top actor Domhnall Gleeson believes his co star in Ex Machina - Alicia Vikander - has made him a better actor.
The pair previously worked together on Anna Karenina and reunited for this sci-fi flick.
The film tells the story of Caleb, played by Domhnall, who wins a competition to spend a week at a private mountain belonging to reclusive a CEO.
However, when he gets there he learns he must interact with the world's first true artificial intelligence, which is housed in the body of a beautiful robot girl.
Speaking at last night's Irish premiere for the movie in the IFI cinema in Temple Bar, Domhnall said that working with Alicia made the job even easier.
"She is superb, there are certain people that you are a better actor around and I think she's one of those people for me, so selfishly I really like working with her," he told the Herald.
"She makes me better and I loved every second of it."
Alicia, the rumoured girlfriend of Irish actor Michael Fassbender, is set for super stardom as she has no less than eight films due for release this year.
script
Domhnall (31), who is currently starring in The Walworth Farce with his dad Brendan and his brother Brian, admits the script attracted him to the movie, which was written and directed by Alex Garland.
"The script for this was great, that was my reason for doing it. I was dying to work with Alex again, I couldn't stop reading the script and I would have been heartbroken if I hadn't got it," he admitted.
Meanwhile, Domhnall's dad Brendan lends his voice to Song of the Sea, which was nominated for Best Animated Feature Film at this year's Academy Awards, which his son is delighted about but he said he doesn't pay much attention to awards.
"I'm proud of the film whether or not it gets nominated. It's brilliant for Song of the Sea because it helps it get seen which is fantastic," he added.
After the play wraps in February, it's back to work for the busy actor.
"I go back to Canada where I'm filming The Revenant and when I finish on that I'm going to see what I'll do with my life," he joked.
The Revenant also stars Tom Hardy and Leonardo DiCaprio.
hnews@herald.ie