Striker glad to be back in Irish fold and seeks to make up for lost time under O'Neill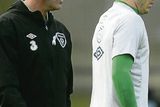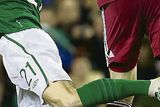 GIOVANNI TRAPATTONI called it 'morale', others would call it 'mojo'.
No matter what word is used, it's clear that in the dismal days after Euro 2012, a spark was lost from a bunch of Irish footballers, especially the contingent from Wolves, who made up 17pc of the original Ireland squad picked for the finals but who found themselves cast out of the international scene not long after.
Kevin Doyle suffered, along with his clubmates Stephen Ward (dropped from the Ireland squad), Kevin Foley (didn't get to travel as he was ditched from the panel before they got to Poland) and Stephen Hunt (hasn't kicked a ball for Ireland since Euro 2012).
But now he's back and, to paraphrase Duran Duran, he's 'Hungry Like A Wolf'.
"You do miss it when you're not there. You get more time off to spend with your family and I have young kids, that side of it you try to enjoy that," said Doyle, who came off the bench to play a role in Friday's 3-0 win over Latvia.
He is in line for a start in Poznan against Poland tomorrow, having endured a long period under Trapattoni when he couldn't even get into the squad, let alone win a cap, as Trap reckoned that the players' troubles with Wolves impacted on their overall form and mood.
"But when the actual games themselves come around, like the qualifiers – I think it was Germany, Austria and Sweden – and you're watching them, it hurts alright.
"It wasn't a good situation at Wolves. Four of us from Wolves went to the Euros and three or four months later we weren't in the squad, which tells you something. It was tough but so be it. I understood it. I never fell out with him (Trapattoni), never thought I wouldn't get back in either, so I got my head down.
"He said that to me and so did Marco (Tardelli). I can't blame him for that, it was very difficult and I felt our morale – I think that was the word he used – was not in a good situation.
"I understood it, I didn't have a problem with not being picked at the time. It was a bit disappointing how I was told, that was the only thing.
"We were informed at Wolves, the four of us, about not being picked after being picked for the Euros and it was a case of him feeling our morale would not be good with the situation we were in and I accepted that and tried to see if I could get back in. Me and Wardy are now back in so it's nice," added Doyle, now a key member of a Wolves side who are going well in their bid to win promotion to the Championship.
Timing is everything in football and it's strange that the second act in this new beginning for the Irish team under Martin O'Neill and Roy Keane takes place in Poznan, where it all went
so wrong in the summer of 2012 with those defeats by Croatia and Italy (the loss to Spain in Gdansk was in between the two Poznan ties).
"It was a blur, a whirlwind," Doyle recalls. "It was a long build-up and then all of a sudden you play three games in, what, eight or nine days if even that and you're out of the competition, going home and then going away on holiday thinking 'f****** hell'!
"You don't even see it coming. I felt that was the case, it was so quick and so disappointing after such a build-up.
"You watch Ireland in the competitions over the years and it brought about such positivity and joy to the country and it was disappointing that we couldn't do that.
"We went into the Euros on a buzz and were looking forward to it. Three games in seven, eight days but it was a massive disappointment. But we weren't scarred from it. We're not going back there now thinking of it in that sense, trying to get a different mindset. We enjoyed the game the other night, won with a bit of style and that will obviously help us," Doyle added.
"It was a nice game, a positive atmosphere and a win. We not only won 3-0 but dominated and deserved the win," he says.
"It was different, you could call it more attacking, we played with one striker but it was more about ball possession, we showed that.
"We dominated possession, we had them in their own half for most of the game and they never looked dangerous."
Interesting
Doyle never got to work with Keane before – the then Reading man came into the senior squad at the end of the Brian Kerr regime when Keane was also a feature, but their paths didn't actually cross.
"I wouldn't say it was a strange week but it was interesting, we have all watched Roy Keane over the years, a fantastic world class player. A few of the lads have worked with him before, I never had that opportunity so it has been good to see what he's like. Same with the boss, I have never worked with him before but he has a fantastic reputation. When you have a new boss everyone is on their toes and more eager to impress.
"Roy was in the squad (in 2005) but was injured and it would have been nice to be involved with Roy, but it has been good and hopefully I will be around for a while. Hopefully they can improve us and get us to the Euros."
At club level, Doyle no longer has a diet of Premier League games but is instead an international playing in the third tier in England, though Wolves are on course to win promotion from League One.
"They won on Saturday and we've gone top of the league," he says. "I was wondering what it would feel like, playing in League One. I hadn't experienced it before and I was trying to get my head around it but when you're winning games it's enjoyable.
"We're getting fantastic support, we're getting 20-odd thousand at games so from our side of it playing for Wolves, playing at home at all, it's still exciting.
"Hopefully we can be in the top two, that's my plan. I don't want to be there for half a season and go and see the lads go on maybe, possibly, get promoted or win the league."