1,000 people turn out for family fun day in Darndale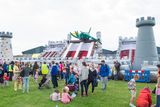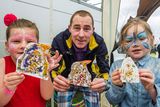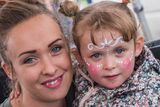 THE second family fun day to take place in Darndale Park has been hailed a "great success".
Some 1,000 people attended the park for a day of arts and crafts, free food and even a Harry Potter bouncy castle.
Children were also invited to decorate their own homemade fairy doors in the Enchanted Workshop.
The doors were made locally and children were then able to take home with them.
A fishing competition, a sports day and a gallows with a wet sponge throwing booth were all set up in the park.
Funding for the day was sourced from Dublin City Council grants and a number of other community organisations.
Darndale FC also opened their doors to offer parents a chance to grab a cup of tea and relax.
"The Harry Potter castle was very popular and everyone had a ball," organiser Susan French told the Herald.
"The whole day was a great success."
"It was amazing to see so many people because we were worried we wouldn't be able to hold the event this year.
"Now we know we definitely need to start organising next year's event."
The Darndale Park Renewal project has been working in the park to secure upgrades and improve the park.