10 things to do in Dublin this weekend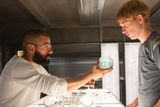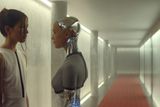 This time last month, it was Christmas. Take a moment, if you like, to process that information.
Yep, the weeks are flying in, and hey, we're even beginning to notice a slight stretch in the evening. So, don't waste any more time. Grab your coat – we've got your weekend sorted…
The Film
Ex Machina (General Release, 15A)
Our boy Domhnall Gleeson is doing very well for himself, isn't he? Not content with having bagged a role in the new Star Wars flick (due next December), or starring alongside his old man Brendan and brother Brian in the superb The Walworth Farce at the Olympia Theatre, Domhnall somehow found time to squeeze in this smart, intense and occasionally claustrophobic sci-fi thriller from first-time director Alex Garland. Oh yes, it's a goodie.
When Caleb (Gleeson), an American employee at computer company 'Blue Book' wins a competition to hang out at his reclusive boss' gaff/research facility for the week, he has no idea what to expect. But listen, Nathan (an excellent Oscar Isaac) is filthy rich, and super intelligent. And, he just so happens to have built a human-like robot with artificial intelligence (the mesmerising Alicia Vikander as Ava) that he wants Caleb to conduct tests on. Or is it the other way around? Nothing is as it seems and Garland keeps us guessing right up until the end, sprinkling an enigmatic story with various twists and turns, and delivering one of the most disturbing, cinematic finales we've seen this year. A well-paced, beautifully shot and brilliantly acted sci-fi yarn that'll creep the bejaysus out of you.
The Pub
The Bar with No Name, Fade Street
We never know what's up with the music in this place (for a while there, they seemed to have Elbow on repeat every weekend), but we don't come here for the tunes. Some call it the 'Snail Bar'; others simply prefer 'No Name'. Whatever the case, it's a smashing spot to grab a few post-work mojitos on a Friday evening. There's a cracking smoking area/marquee out back and everything (don't worry, they have heaters…).
The Night Out
Ri-Ra on Dame Court
You've had a couple of cocktails in No Name and now you're up for a dance in the dark. Luckily, you're just a two minute walk away from the Globe/Ri-Ra on Georges Street/Dame Court. You've got two options: grab a drink at the main bar and head on down the back for a boogie (it might be a tight squeeze), or make your way downstairs to Ri-Ra for some proper, late-night dance action. Doors open at 11pm.
The Meal
Metro Café, South William Street
Not just for pancakes on a Saturday morning, we assure you. In fact, we recently sampled the Metro Café meatball dish and believe us when we tell you that it is positively epic. Great staff, cosy setting and reasonable prices ensure a good-time all round. Try the hot chocolates, too. What? They're not just for kids…
The Gig
Charlie Simpson at the Sugar Club
We all remember Charlie Simpson, don't we? Tall chap, fabulous hair. Oh, and he used to be one third of Busted, those riotous, snot-nosed, boy band pop punkers from way back when (2004, to be precise). Yes, we know, McBusted (featuring members of both Busted and McFly) are currently tearing it up on the arena front, but young Charlie wanted no part of it, him being the one who originally broke up the band and all. Confused? Me too. Let's just say that one of the kids who used to sing about air hostesses and travelling to the year 3000 is playing a solo acoustic gig at the Sugar Club tomorrow night. And, Simpson has only gone and reinvented himself as a reasonably likeable, smartly-attired folk man. Best of luck to him. Just don't go requesting What I Go to School For. He might not like that…
Tickets priced €17.50, available from www.ticketmaster.ie
The Play
The Theatre of War Symposium at the Abbey
An internationally-renowned ensemble of artists, journalists and academics descend upon the Abbey Theatre this weekend for a series of discussions, readings and theatre events on "the world's most troubling conflicts from a global, contemporary and historical perspective." Sounds interesting. Might we recommend booking a ticket for Oh My Sweet Land (a play that explores the crisis in Syria) on the Peacock Stage for Friday or Saturday night?
Ends Saturday. Visit www.abbeytheatre.ie for a full list of details and ticket prices.
Lunchtime Tunes
Jape in-store gig at Tower Records
With two-time Meteor Choice Music Prize winner Jape releasing his fifth studio album This Chemical Sea today, the man otherwise known as Richie Egan will be popping by Tower on Dawson Street for a special in-store album launch at 2pm tomorrow. A dab hand at the old electronic rock, Richie is well worth checking out. The talented Dubliner might even sign an album or two once he and the band are done performing. He's nice like that.
For more, visit www.towerrecords.ie.
The Tribute Act
Rumours of Fleetwood Mac
The real Fleetwood Mac are said to be thinking of packing it in as soon as their current tour comes to an end. Oh well. At least we'll have this lot for another while. Rumours of Fleetwood Mac, we're told, are the world's leading Mac tribute band, the British rock ensemble having performed more than 600 shows for more than half a million fans in their 10-year history. That's quite an achievement. Mick Fleetwood's given them the thumbs-up too, would you believe. Well, if it's good enough for Big Mick…
Tickets priced €28.50 – €38.50 available from www.ticketmaster.ie.
The Event
Bride of the Year Show at the RDS Main Hall
Now this is different. The so-called "wedding event of the year" does exactly what it says on the poster, and if you're currently planning your big day out, why not head on down with the gang (the groom, your mum, the girls, etc.) and have a complimentary make-up trial whilst getting all the advice and tips you need on dresses, honeymoons, floral arrangements and limousines (if you're into that sort of thing). There are a few prizes to be won, too. Oh, now you're interested…
Saturday and Sunday, 11am – 5pm. Tickets priced €12 available from www.ticketmaster.ie.
School Night Fun
David O'Doherty at Whelan's
Live comedy on a Sunday night? Don't mind if we do, thanks. David O'Doherty Has Checked Everything is the name of the show, and the Dublin-based, Perrier Award-winning comic is in fine form at the minute. An inventive and wonderfully offbeat stand-up, O'Doherty takes observational comedy to a whole new level. Things might get quirky, folks. And yes, he's also quite handy with a keyboard. Of course he is.
Sunday at 8pm. Tickets: €16.50. Visit www.whelanslive.com.