Why Robbie Henshaw is happy to be the centre of attention for Ireland
Centre has made himself first choice for Ireland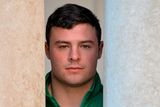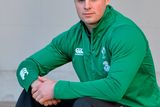 Life happens at a hell of a lick for the gifted.
Robbie Henshaw knows all about this. It was only four years ago he was leading unheralded Marist College to the Connacht Schools Senior Cup and making waves as Ireland's outside centre in the FIRA European Championships.
The thing about Brian O'Driscoll was that he had a veneer of invincibility, an outward impression that no challenge was too big or no opponent either.
This is the benefit of being a winner from those early years at Blackrock College and with Ireland at the U19 World Cup in France.
He was groomed to be the best from a tender age.
Former Westmeath minor midfielder Henshaw has had to travel a different path to the Ireland jersey.
He has really been groomed from his province Connacht and from within the Ireland camp as a special talent.
It wasn't that long ago that he had to walk into Carton House to meet his heroes.
It must have been intimidating
"Yeah, there was an aspect of that alright," he said.
"I think the nerves were high coming into camp whereas I'm more used to the surroundings now.
"Declan Kidney brought me in for a bit of experience in my first year and, then last year, I was with the whole squad for the duration of the Six Nations as well.
"I travelled to a lot of games and togged out as 24th or 25th man. It was a good experience of match day because I know how to prepare and what to prepare for."
And there you have it.
Henshaw was groomed by Joe Schmidt for greater things. He was there to experience the Six Nations decider in Paris.
"I felt like I was nearly playing the game on the sideline. I was just in it," he recalled.
"Obviously, it was disappointing not to be playing. I think Joe used me big time last year to train and run plays against the lads, just to be there in case there were any injury worries.
"That gave me confidence as well, that he saw something in me, being part of the squad for many of the games.
"It showed me I was there. I wasn't too far away."
It wasn't that long ago Connacht were the outcasts of Irish rugby, standing on the edge of oblivion, as a developmen t entity, not worth the money being pumped into it.
Slowly, they began to make themselves heard. Eric Elwood was a builder of faith, especially in Henshaw. Nigel Carolan has been the range finderin his role as manager of an improving academy.
All the good groundwork began to show in his impressive November outings against South Africa and Australia. Connacht's poster boy is fast becoming Ireland's.
There are many midfield permutations being trotted out for the Italians on Saturday.
The one constant is Henshaw, at either 12 or 13. The youngest has most security of tenure.
"It feels a little bit strange," he admitted.
"I suppose after November, I enjoyed playing in the centre. I said to myself I really wanted to get back out on the pitch after experiencing the wins in The Aviva and the atmosphere.
"I suppose playing with that confidence has made me a little bit of a better player, just looking forward to getting a couple of games in the next few weeks."
When he does cross the white line, the timid character transforms into beast mode.
"Yeah, the aggression flows naturally, absolutely," he said.
"I think once you step over the line, you have to be ruthless on the pitch. You don't hold back and people say they can see that character in me when I play.
"Off the pitch, I can be timid sometimes, but, once you cross that line, there's no holding back. You have to be ruthless when you're on the pitch and do the best you can for the team."
He is starting to sound a little like the man that came before him.