Sinead Ryan: When it comes to arrears, banks are part of the problem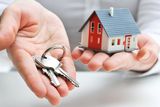 I wrote here a couple of years ago about how allowing the banks a veto over insolvency deals with customers was going to scupper the fledgling service.
It has, making it extremely hard for the vast majority to get a solution to their financial woes, leading many in difficulty to head straight for bankruptcy.
So too the 'sustainable solutions' demanded by the Central Bank on mortgage arrears which were handed down with stern warnings in 2012.
The banks nodded their collective heads and promptly ignored everything they were told to do.
So, far from offering actual, long-term solutions, many opt for the easy, if expensive step of repossession.
Ironically, this has been boosted by the rise in property prices. If banks sniff any equity in a property, they'll much prefer to sell it off on the rising market, rather than try and help out a borrower on his uppers who can only afford half the repayments.
Hey, it's just business, right?
Well now the embarrassed Central Bank is to hold a 'review' into the banks' actions.
Excuse the inverted commas, that's just me being cynical. In truth, there is a 'review' every month, as CB officers plonk themselves into comfortable boardrooms in bank HQs all roaming across figures, tables and statistics with teams of accountants. So why make a song and dance now?
There are 37,000 mortgage holders who haven't paid a cent on their mortgages in two years. They account for €8.1bn of mortgage debt. Buy-to-lets in the same position account for another €28.8bn.
Meanwhile, there are a further 21,881 borrowers in arrears for more than a year - and it's not improving: 64,196 residential mortgages owe at least three months' payments - two full years after the Central Bank made its demands.
There is zero hope of getting money out of the two year people and they shouldn't be allowed live for free on the taxpayer via State-owned banks.
But repossession is also unpalatable for the taxpayer: the family gets chucked on the ever-lengthening social housing list, joining the other 100,000 already there.
Those who voluntarily 'give up' their house to the bank are not even eligible to join it, which is disgraceful. Hence the stand-off.
By September 2014 there were 2,027 home repossessions granted (and bear in mind most judges are extremely cautious in allowing them); 9,000 applications are in train. Two thirds of these are on family homes.
'Repo' is not a sustainable solution by any means, except for the banks of course, for whom it is the ultimate solution.
'Solutions' such as longer mortgage terms add debt, rather than reduce it while hardly any qualify for mortgage splitting, or warehousing of debt.
One option which was widely publicised by the Government was the encouraging Mortgage to Rent Scheme.
It ticks a lot of boxes, namely that the bank get the house, the family stays put in their own home, and their neighbours are none the wiser.
They pay rent to a housing agency rather than have a bank on their back and everyone's happy. Right? Er, no.
When the plan was introduced in 2012, we were told a pilot 500 cases would become eligible.
Since then 40 have been completed. Anyone holding their breath would need oxygen by now.
complicated
There are several problems.
First is the very high bar to hit to qualify for the scheme: the property can't be worth more than €220,000 in Dublin or €180,000 elsewhere. Good luck with that.
You can't have assets/savings of more than €20,000 or earn more than €25,000-€35,000 net, depending on location. Your house gets sold to a housing association charity but the deal has to be agreed by local authorities, social welfare, the borrower and the bank (who get to decide whether you do it or not).
It is enormously, and unnecessarily complicated but the real truth is that banks simply don't want to crystallise the inevitable losses that are incurred as they must sell the property at a discount to the housing agency.
Why should they when they can stick it up on Daft.ie instead and get a 'proper' buyer?