Sexton's sharp tongue raises intensity levels in Ireland camp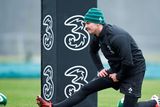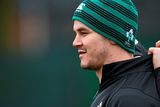 Ireland assistant coach Richie Murphy says Jonathan Sexton "looks very sharp" ahead of the Six Nations test against France.
"That comes down to the fact that, although he was out, he was able to train and do a lot of non-contact stuff. He doesn't look like he's been away for three months," he said.
The return of Sexton to command centre has led to a lift in intensity because that is what he demands and that is what is needed for the French.
Where Brian O'Driscoll was once the man who made everyone around him in the backline better for his presence, Sexton has taken over that role.
DRIVING
"I suppose there's someone bitching on the training pitch again. He's been driving the lads, driving himself in fairness," smiled Murphy.
There is what he demands from the players and then there is what he brings as one too.
"Like, it's the subtle touches that he has that make him that little bit special.
"He has massive confidence in his own ability, today we trained and the intensity in the session probably went up a bit from where it was last week.
"That wasn't only Johnny, everyone was a bit more focused and probably looking for a bigger challenge in France."
Kicking guru Murphy moved to calm any fears over the fact that Sexton won't have kicked competitively for twelve weeks.
"He's obviously done it for a very long time now, he's been training and he's kicked very well this week. It's a slight bit different, going in for your first match back in the international arena, but it's a kick like any other kick and he just needs to focus on the process."
The more immediate concern revolves around Rory Best's recovery from concussion as Ireland prepare to lock shoulders with a meaty French scrum this Saturday in an area where Best really lives up to his name.
Schmidt declared Jamie Heaslip fit for Italy only to leave him out because he did not train all week. He does not like to throw players in cold.
The earliest Best will be able to train will be tomorow.
Does the same rule apply? "That was the decision last week because we were at that particular time when we were looking for clarity into the weekend.
"We won't know more about Rory until probably about Wednesday evening, so I think it will just be a case of see where that is and go from there.
"I can't say whether he'll pick him or whether he won't. I don't know."
At the moment, loose-head Cian Healy, flanker Seán O'Brien, Heaslip, scrum-half Eoin Reddan and Dave Kearney are all back in the reckoning.
Des Berry