Schmidt remains unfazed by Eddie grenades ahead of opener
Sexton is expected to train fully today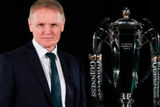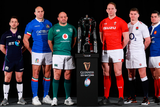 Joe Schmidt will defuse all incoming explosives from Eddie Jones by simply ignoring them.
At least, that is the plan anyway.
The borderless, bottomless nature to the Australian's gamesmanship makes him immune to standards.
There is no low to which he won't go.
Schmidt is not the type to take the bait unless it will do his players more good than harm.
"Eddie went past me just before and he said, 'right, let's get ready for a few grenades.'
"He's always incredibly hard to read, Eddie," Schmidt said.
Nonetheless, the Ireland coach was in fine form, even acknowledging that "the bat phone" Jonathan Sexton has to officials might be better off in his hands.
"I'd like a direct dial myself. I didn't know that Commissioner Gordon is in the building when matches are being played," he joked.
Positive
There was also positive news about Sexton's fight to overcome a knee tendon problem, Schmidt confident his out-half will train fully today in Portugal.
"Our expectation is that he will get through that without any problems at all," he said.
Tadhg Beirne has a chance to return for Italy in round three, while Iain Henderson could miss the entire campaign.
The competitive edge that makes Sexton such a force is right there inside of England captain Owen Farrell too.
In fact, the playmaking generals are known to be firm friends from the bond formed on the 2017 British & Irish Lions tour to New Zealand.
The genesis of that connection was born out of how similar are Sexton and Farrell.
"I'm not sure Owen is that different," noted Schmidt.
"They're demanding of themselves, their co-players and officials." Schmidt even cast the net wider to haul in Wales' primary out-half.
"Look at Dan Biggar, I don't think he's any different either.
"They're incredibly competitive and because they're incredibly competitive, they ask questions."
It is merely a trait of an international out-half that they have to be aware, and in command, of so much of what's happening around them and in front of them.
"The other thing is that they're all incredibly intelligent players," stated the New Zealander
"They all know the laws of the game.
"They've accumulated a level of experience in the game that if you wrap those three up, they probably have a couple of hundred Tests between them." It is Farrell who will have to deal with the referee at the Aviva Stadium on Saturday week.
Sexton will have his influence limited by the armband being worn by Rory Best.
"Johnny doesn't have as much to say for us because he's not skipper," said Schmidt.
"Rory (Best) would be the guy who is more face-to-face conversations than bat phones.
"I think he manages that really well as the captain."
The Ulsterman Best certainly managed the proposition thrown out that Ireland rank as favourites.
"It's something we're not necessarily focusing on. That is external to the group," said the hooker.
"Over the last number of years, our good performances have come whenever we've had really good preparation.
"On Saturday week, it's got to be no different to beat a very strong English team.
"We're going to have to prepare well because we know we will have to play very well.
Sharpen
"There is no greater game to start the tournament with, to sharpen the mind than England."
Wales coach Warren Gatland took time away from preparing for France in Paris to throw some shade over what Ireland have to do in Dublin.
"I don't think Ireland have played England first-up in the whole time the Six Nations has been going," he remarked.
"That will make the Six Nations pretty exciting from the first weekend of matches.
"Either Ireland or England are going to get knocked out of winning the Grand Slam and a Triple Crown as well."
The fact back-to-back Grand Slams have never been achieved in the Six Nations era and only five times in the history of the competition indicates the degree of difficulty facing Ireland.
The last team to do it was the fabulous France sides in 1997 and 19998.
"It's tough. It's really tough. You've got to create that momentum," said Gatland.
"In fairness to Ireland, in how they are set-up and their provincial rugby, how strong that is, Leinster obviously the powerhouse of European rugby, they're building really well to, potentially, repeat that feat."
It would appear Jones isn't the only one capable of dabbling mind games.
There's a long way to go for Ireland from the first round to the final one in Wales.