Mess with model Holly at your peril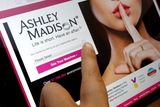 Holly Carpenter has commented on the scandal that has seen the database of website ashleymadison.com hacked. The site is notorious for encouraging married people to cheat on their partners, offering willing, no-strings attached liaisons, and complete privacy.
Well, until now. Raging against the existence of the site, Holly wrote: "If I found my husband (if I had one) on a site like this, he'd have to go into witness protection, but I'd find him!"
It may strike some as being slightly bizarre that Holly should be criticising one evil - infidelity - while championing another - cold-blooded murder, albeit with tongue firmly in cheek. The model is currently single, and looking for love.
Good luck with that, Holly...