McAuley on the double as Muckross see off St Andrew's
Clinical Muckross show a clean pair of heels to last year's front runners St Andrew's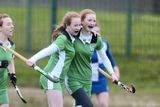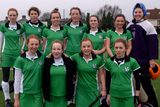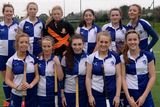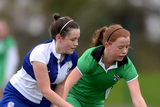 Rachel McAULEY'S double underpinned a superb Muckross Park performance to earn a place in the Leinster Schoolgirls Senior Premier League semi-finals, knocking out the reigning champions St Andrew's.
The Marlborough Road side had been thrust into a three-team play-off after the preliminary group phase of the competition, all tied on 13 points from six games. They duly negotiated last Saturday's first play-off with Alexandra College 2-0 and duly proved too strong for the Booterstown outfit on yesterday, setting up a semi-final with St Gerard's.
SHOCK
Muckross looked the more assured throughout but Andrew's nicked a shock lead from their first attack 12 minutes in. Sarah McCready pounced on a loose pass to win a corner which was turned in by Hannah Marshall.
But Andrew's were unable to hold onto the advantage long as Aoife McNulty was set free down the left wing. She picked out Emer Clarke – a wonderfully assured presence in midfield throughout – and she coolly slotted home the equaliser two minutes after falling behind.
McAuley then created Muckross's second with a quickly taken free, locating Aoife Kelly who swept home on her backhand. Creator turned scorer soon after, completing a run of three goals in 13 minutes, as McAuley fired a vicious shot past Phoebe Moore to extend the lead out to 3-1.
It was no less than the hosts deserved as they attacked with pace and vigour, laying on some lovely first-time passes with Sophie Barnwell a constant threat down the right.
Andrew's were living off scraps but they did introduce Irish underage international Sally Campbell in the second half to give them more purpose. She was carrying an injury, limiting her pitch-time, but did win a corner early in the second half.
It went awry while Muckross converted their next set piece, McAuley gobbling up a rebound for 4-1 and they stayed well clear until three minutes when Hilary McKenna pulled back a consolation effort.
st andrew's: L Travers, M Cole, S Lanigan, N Ferry, L Shaw, S Barnwell, E McGrane, E Clarke, R McAuley, A Kelly, A McNulty. Subs: C Cullen, K Grennan, N Shaw, E O'Gorman, R Cuddy.
Muckross: P Moore, S McCready, H Marshall, A Sarratt, S Brooks, D Aikens, L Bateson, H McKenna, J Meates, J Gibson, H Donoghue. Subs: A Lord, J Keane, S Campbell, L O'Reilly, K Orr.