Masterson's magic touch for Coláiste Chiaráin
Basketball All Ireland Girls U16A Cup Final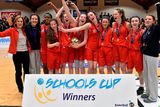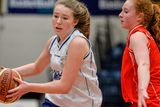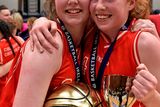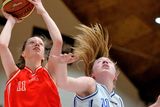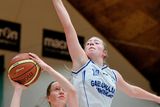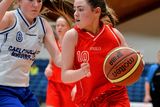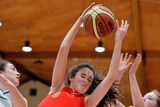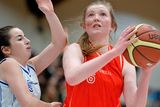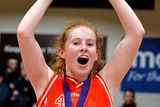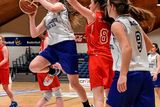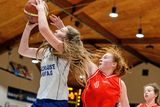 Long after full-time had come and gone at the National Basketball Arena, Coláiste Chiaráin from Leixlip were still lapping up their famous Under 16A Cup victory over their Cork opponents.
And why not?
They had at one stage been 13 points in arrears, but having moved into their opponents slipstream, the Kildare girls pulled away to dominate the last period.
For her 30 points, Niamh Masterson captured the MVP gong, but there many deserving candidates on the day.
Meadhbh Hanlon was a calming presence as she swept up the play in defence, but Sorcha Tiernan, on the day, arguably made the biggest impact for her side.
Her big three-pointer with two minutes to go in the third quarter was a big turning point.
level
It would draw Yvonne Bracken's team level and while Gael Choláiste Mhuire would briefly go back in front, the screw had been effectively turned.
And with Masterson bulldozing her way through the opposition defence, the Kildare girls comfortably dominated the final quarter.
Initially, things had looked good for the Leesiders with Louise Ní Scanaill fast breaking runs setting up a 14-4 lead for the Munster girls.
Coláiste Chiaráin began the second quarter well. However, two quick visits to the free-throw line failed to yield a score.
Two baskets from Rebecca Ní Mhuilleoir was to see Gael Choláiste Mhuire 13 points up but having regrouped after a time out, Coláiste Chiaráin came back with scores from Tiernan and Masterson.
At half-time, the Cork girls led 29-21 but the third quarter was all about Tiernan as Coláiste Chiaráin edged ahead on a 39-36 scoreline.
And now oozing with confidence, Coláiste Chiaráin turned on the style with Masterson making a series of baskets to move her team 12 points ahead. The Cork girls would briefly rally after a time-out but the day belonged to Coláiste Chiaráin which ended fittingly with a three-point play from Masterson.
Colaiste Chiarain: Sorcha Tiernan (27 pts), Ciara Bracken, Niamh Masterson (30 pts), Meadhbh Hanlon, Kate O'Toole, Susie Walsh, Ashley Njongo
Gael Colaiste Mhuire AG: Saoirse Ní Shúilleabháin, Amy Ní Chongaile, Avril Braham (13 pts), Rebecca Ní Mhuilleoir, Claudia Ní Ghiollarnath, Ciara Ní Ghogain, Laura Ní Mhaolcatha, Louise Ní Scanaill 19 pts,  Sorcha Ní Dhalaigh, Melanie Nic Thomais, Lara Ní Harrachtain.