Pippa O'Connor gives sneak peek at her cosmetics range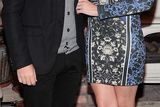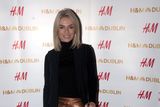 Pippa O'Connor has finally given her fans a sneak preview of her new make-up collaboration with Blank Canvas cosmetics.
The mum-of-one (left) has been teasing the new collection for months and did a shoot for the range in Central Park in New York earlier this year.
The blonde beauty took to her Instagram account yesterday to give her followers an idea of what they can expect.
"Can anyone guess what my collaboration with Blank Canvas Cosmetics is? This pic was taken at the shoot for it last winter so it's been a long time coming. I can't wait for you to see," she wrote, sharing a behind-the-scenes snap of the New York shoot.
excited
She later posted a picture of the pink packaging of what is believed to be a range of make-up brushes.
"First look at Blank Canvas. So excited," she wrote.
Pippa (31) recently revealed she was very hands on with the project.
"For the past year I've been working with Blank Canvas cosmetics on a really exciting project - I hate saying 'project' as it sounds so blase and I wish I could say what exactly it is we're bringing out but I'm sworn to secrecy," she said.
"It will be launched in the coming weeks and I couldn't be more proud of it - I've been really hands-on with every detail and I think everyone will love it.
"Seeing our ideas go from paper last year to it being in my hand for the first time was just incredible."
Summer BBQ at The Arch
If you're looking to get out of the city this summer, head to Carton House where they've just opened their new outdoor dining area called The Arch.
While enjoying some cocktails created by the award-winning masters from the famed The Dead Rabbits Bar in New York, you might even get a glimpse of the Irish rugby team who'll be training at the luxury venue throughout the summer.
The Arch is open from 9am until late and a BBQ is available for group bookings.
Ballet returns to the Civic
Ballet Ireland will return to the Civic Theatre, Tallaght, with their popular summer school, offering budding dancers the chance to work with the company's professional dancers to create a ballet.
This year's ballet is the Brothers Grimm tale, The Frog Prince.
The school runs from July 20 to 24 and costs €80 per student. See civic.ie for more information.