Michael Fassbender and J-Law take on The Big Lebowski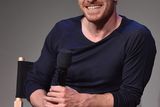 Irish actor Michael Fassbender and Oscar winner Jennifer Lawrence teamed up over the weekend for a special live performance in Montreal.
The Kerryman was joined by his X-Men: Apocalypse co-star Lawrence and a host of other big names, including comic Patton Oswalt and actress Olivia Munn, for a live reading of iconic comedy The Big Lebowski.
Fassbender played the part of The Dude in the stoner classic and even got into character on stage, stepping out in a dressing gown, boxers and flip flops and smoking some hand rolled cigarettes during the reading.
The actor's co-star Oswalt, who is a comedian and writer, joked that the Macbeth star was perhaps taking the role just a little too seriously.
"I think Fassbender went a little too method on this one. I hope TMZ isn't here," he joked.
The event was part of the Just For Laughs comedy festival in the Canadian city, where the latest X-Men instalment is currently being filmed.