Lynn Kelly's long-term love is a model romantic
About town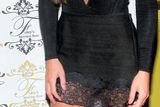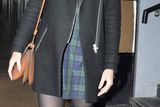 Lynn Kelly's boyfriend has been known to spoil her with designer gifts, but the top model has revealed that she's not all about the material things.
The top model (left) revealed that the letters he leaves under her pillow mean much more to her than designer threads.
"I am so blessed to have such a loving, caring, respectful boyfriend who does absolutely everything for me," she gushed.
"It's not all just about the expensive gifts that he buys me and the surprise trips he has planned, but the letters he has left under my pillow mean more to me than any materialistic items."
Read more:
While most couples will be out enjoying a romantic date this weekend, Lynn (26) says they probably won't do anything for Valentine's Day.
"Valentine's Day isn't a huge deal to me so celebrating it isn't a big factor," she said.
"As romance goes, Robert isn't a predictable type of romantic, which I love.
"To me, it's all about the little things - the fact he knows I have had a really long day and he will have fresh bedsheets on the bed, new PJs out and a cup of tea in my hand before I know it, is romance to me."
The gorgeous couple have been together for 10 years and recently went on holiday to Barcelona together.
Meanwhile, Lynn has had a busy start to the year with lots of modelling jobs, appearances on Xpose and Late Lunch Live and a lingerie shoot for Ann Summers.
Top trio for Whelan's
Two of Ireland's foremost singer songwriters, Dubliner Eoin Glackin and Donegal man Mickey Harte will join with New Yorker Rachel Sage for a very special "in the round" show upstairs in Whelan's Dublin on Sunday March 1.
Tickets for this gig are €10 and are on sale now from www.wavtickets.com.
Hudson Taylor gigs
Following the release of their highly-anticipated debut album and selling out their biggest tour to date, Dubliners Hudson Taylor have added an additional seven Irish dates this May.
Hudson Taylor- aka brothers Harry and Alfie - will now play extra dates around the country including an extra gig at Dublin's Olympia Theatre on May 30.
Tickets from €17.35 including booking fee went on sale today at 9am and are available through Ticketmaster outlets nationwide, ticketmaster.ie and check local box offices for availability.