I'd love to land a TV job, says model Jo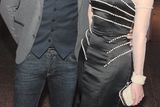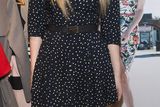 Model Jo Archbold would love to follow her other half Eoghan McDermott into the world of broadcasting.
Archbold, who works for iClothing and has just returned from London Fashion Week, said she would give TV presenting a shot.
"I'd love to get into it," she told the Herald. "It would be a fun job and if I could do something relating to fashion that would be great.
"But at the moment I'm happy focusing on modelling and my work with iClothing."
Having soaked up all that London Fashion Week had to offer, Jo is already planning her next trip over.
"I've definitely been bitten by the bug. The people-watching was amazing. I definitely want to go back over next season."
The petite model would also consider signing with a London agent in the future.
Jo and Eoghan, who presents on radio and TV, have been dating for a year. "We met in a club and things went from there," said Jo.
hnews@herald.ie