Celebrity Diary with Jennifer Maguire: 'Presenters want me to have my baby in studio'
RADIO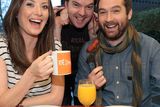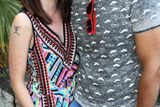 THE countdown to motherhood is on now with my due date looming on March 12. I'm so excited, but there is also so much to fit in before the baby comes.
I'm planning on staying in 2fm right up until the day I'm due, but you just never know what's going to fall out when you're walking into RTE!
I know that Bernard and Keith would love me to have the baby in studio, live on air. Keith would probably take out his camera phone.
Working keeps me busy and helps with the waiting. At this stage I'm just waiting for that twinge when it'll be a case of "Lau we're on!". The bag is packed, the room is ready - we are pretty much organised.
I've been with Lau for nine years now and I know that he'll be a great dad. We're just ready to be a family.
The last few days are about trying to see my friends, getting my hair done, having a pedicure and cleaning the house because when this child comes I won't have time to do anything.
I'm trying to spend as much time as possible with Lau too. I think he is getting sick of me now because I'm like, "OK where are we going now?".
We have a couple of weeks on our own now and then for the next 18 years we're a threesome.
I'm getting ready for a natural childbirth
I'M planning a natural birth but that's not to say I won't be asking the security guard at the gate for an epidural - I'm trying to keep an open mind.
I've been practising my hypno-birthing techniques every day. There is a lot of preparation needed to go this way. I've done a lot of work with classes, reading and meditation.
It really is a lot of mental prep because you have to practise breathing and meditating because that's how you'll deal with the pain.
It's basically about having no drugs and about getting yourself into a state of relaxation. It's about letting it all happen naturally
If anyone had asked me at three months about my birth plan I would have said I would be taking all the drugs on offer.
Now I've gotten rid of my fear. I'm ready for labour - I'm not afraid or worried about it.
It's about being positive and letting your body do what it's designed to do.
Women are made to do this and we can do it so we just have to get rid of the fear and let it happen.
Maia must have caught pregnancy from me
The Unemployables is going to be airing in April after the baby comes and I am so pregnant in this series. I just get fatter with each person on the show. I feel good at the minute, but it is bizarre to see the changes in your body.
I'm looking at my belly thinking how is that going to go back to the way it was? Though I have to admit, I'm quite enjoying eating what I want (within reason).
I've always been active and looked after myself but I won't be running back to the gym when the baby comes. There will probably be a little bit of pressure to get back to normal, but it won't be coming from anyone only myself.
It is so crazy what happens.
It's the first time in your life that you have literally no control over your body.
It's also contagious. Maia Dunphy (inset) definitely caught her pregnancy from me!