Celebrity Diary with Courtney Smith: 'I bumped into world's hottest supermodel in New York'
Fashion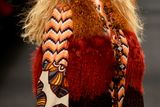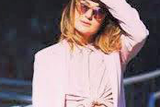 I got back from New York Fashion Week on Tuesday and jetted off to London yesterday to attend Fashion Week there, so it's been all go.
I collaborated with DKNY while I was in New York, so they got me access to their fashion show which is a big ticket to get as it's a New York brand and Cara Delevigne is their current face.
That was a really cool event to go to and I got to go to the Tommy Hilfiger show as well, which is also a massive budgeted production.
This year's show was almost like an arena - instead of a catwalk they made an American football pitch, so the looks were very sports-inspired.
Jourdan Dunn and Gigi Hadid were modelling and Rita Ora and Olivia Palermo were in the front row.
As shows go, those two were definitely stand outs.
Gigi Hadid is definitely the model to watch at the moment - she's going to explode.
I actually bumped into her at her hotel in the Meatpacking District - she had her little entourage with her but she genuinely seemed really normal.
I was at a meeting in the lobby with a future client and she was getting in the elevator and there were loads of people coming over and asking for a photo with her and she was more than happy to do that which is nice.
She's young as well so it's probably as exciting for her as it was for them.
To be honest, though, I get more excited about seeing industry people like Grace Coddington and the editors from Vogue and Elle than I do about celebrities because obviously they're in my industry.
The last Tommy Hilfiger show I went to, I met Rachel Zoe, who is a huge international stylist, so I went up to her again this time and said hello.
She remembered me approaching her before and she was lovely and asked me how I was getting on and that was really nice as well as she's probably one of the most famous stylists in the world.
I'm at London Fashion Week for the next few days and I always go to the Irish designers out of interest - designers like Simone Rocha and Paul Costello.
It's always nice to see their new collections and my followers or whoever I'm writing for are really interested in them.
I'm also into some of the cooler younger designers and I always make an effort to go to those kinds of shows as well.
It was great to see Zoe's new collection in the Big Apple
Irish designer Zoe Jordan was also showing in New York - she normally shows in London so it was really cool to see her over there.
She had a presentation instead of an actual catwalk show, which a lot of designers are doing.
I find it way better to be honest.
She had booked this beautiful room with these big windows in the Standard Hotel so it was full of light.
All of her models were standing on podiums against the wall and they each wore one look - it was almost like a curated exhibition of her collection just showing the best pieces.
You could go up and touch the fabrics and get really close-up photos.
Catwalk shows are great but you see flashes of people walking past you very quickly whereas with the presentation you get to see the quality of the fabrics and the intricate detailing.
I saw Zoe's first show in London so it was wonderful to get to see her in New York.
I'll be styling Virginia's new swimwear line
In the next few weeks I'll be shooting Virginia Macari's new line - it's her new swimwear collection.
She's bringing out a new line of pieces and they are actually amazing. We'll be shooting a campaign in Marbella within the next month.
I did some shots for the last line she did - she didn't do a photoshoot that time but we decided to do a campaign.
We have a really cool team and an international model and all that sort of stuff so it should be amazing.
I have bikinis from her first collection and they're such good quality.
Usually with high-street bikinis, they're wrecked by the end of your holiday but hers have stood the test of time.
I have them for two years and they're still in such good shape - they haven't stretched, the lining hasn't come out, they haven't done that bobbly thing.
The new collection is a little less glam - it's probably a little more fashion forward for her and I'm excited for people to see that.
It's not too different, it's still sexy but it's more sophisticated glam and I think that's where she wanted to bring it.