Joe Schmidt: I never had worry over Sexton
Schmidt happy with out-half but wary of England threat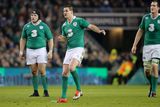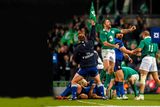 The question over Jonathan Sexton's fitness to practice had to be met head-on. By Sexton; by Joe Schmidt too.
The Ireland coach shot down claims by former French international Laurent Benezech over the health of Sexton as "scaremongering".
"If I can say it any more plainly, Johnny is fine and we take the very best medical and professional advice on our players," said Schmidt.
"We have absolute faith in our medical people.
"We rely on them and not someone external who decides that they're going to voice an opinion and then be given a platform to voice it that almost scaremongers their way through the concussion issue.
"I can guarantee that Johnny is 100pc fit, apart from some stitches and a bit of a black eye."
You could see Schmidt's point. Why Friday?
Why wait until the day before to voice concerns over the health, or otherwise, of Sexton when the whole world and its sister knew the Racing Metro man would play the minute his return-to-battle date was announced back at the start of December?
The fact Sexton is such a strong character meant he would not "give a quarter" and, if anything, he seemed to advance into the line of fire from a rampaging Mathieu Bastareaud on Saturday evening.
Will the man never learn? Will he ever stoop to conquer in the tackle?
It is simply not the way Sexton is constructed. Competitive instinct will always kick-in at kick-off time.
ATTRITION
It was a mirror image of a war of attrition out of which Sexton emerged scathed with a deep gash to his left eye, requiring six stitches, and a bulging, discoloured bruise from the French centre.
It was heartening to see gladiators Sexton and Bastareaud meet in a warm embrace at the final whistle.
"I went to Bastareaud at the end and asked him: 'Why always me?'"
Now, Schmidt will have to wait out Sexton's likely start for Racing against Clermont-Auvergne in the French Top-14 next weekend.
There was a lot to like about the way the Irish defence held out against France's late charge back from 18-6 down to come within one more magical try to add to that of Romain Taofifenua's in the 71st minute.
"I was incredibly proud of the defensive display that we fought our corner really well, particularly a man down in that last quarter," asserted Schmidt.
"They have some of the biggest humans I have seen on a rugby pitch coming at us.
"It is very, very difficult to arrest their momentum once it began."
You mightn't be too far off the mark to consider Wayne Barnes as one of the referee's Schmidt prefers not see with a whistle in his hand at an Ireland international.
"One of the things that gave them initial momentum were those set-piece penalties.
"We were massively frustrated by those. We'll review those."
There was a sense of here-we-go-again on introduction of the French reserve front row with Clermont's Vincent Debaty the culprit in some illegal scrummaging in the eyes of Schmidt.
"The scrums had been very good for 50 minutes.
"Then, the same guy who walked around (in the scrum) last year comes on, two (scrums) go to ground and, suddenly, we're at fault.
"It gave them field position and once they got that they were very, very difficult to stop coming forward.
"We've got to make sure that we are as good as we can be that we remain as positive as we can be at the scrum.
"We just hope we get reward for it which didn't seem to be the case."
The pathway to the retention of The Championship and a golden Grand Slam is rocky and uphill.
tough
"We've got three incredibly tough games left," said Schmidt.
"We get to play at home against England. That's monumental for us. It could all come undone right here.
"We've managed to build a bit of a home record. I know the players take incredible pride playing here. It's been sold out for a log time. It's going to be a massive occasion. We won't be looking past that."
And what of England?
It looks like their coach Stuart Lancaster may have stumbled upon close to his best backline.
The cloud of injury over the likes of Owen Farrell, Manu Tuilagi and Brad Barritt forced him away from the bludgeon and towards the balletic skills of George Ford, Jonathan Joseph and Anthony Watson.
Once again, Schmidt pointed to what happened in their Six Nations benchmark performance against Wales.
"I think Ford has played really, really well. I thought he defended well in Wales," said Schmidt.
"He's not the biggest man but he's courageous and very correct in his defensive technique. His kicking game is bang on and he's a very astute young player.
"I think the footwork that Joseph has and Watson, they're very difficult to contain.
"I'd throw some of the guys who've been around a bit longer like Johnny May into that bracket as well. I thought his try against the All Blacks was exceptional in November.
"I only saw glimpses of the Italian game, but some of his footwork was pretty difficult to contain as well."
Ireland will have two weeks to treat the banged up bodies from going blow-for-blow with the French.
The most immediate person of interest is Jamie Heaslip, who was due to have a scan on his lower back.