Henshaw: England clash could be Six Nations decider
Irish centre is learning and linking well with both Sexton and Payne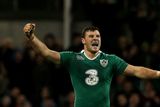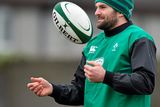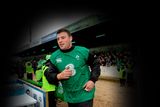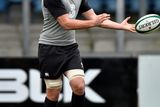 Now that Robbie Henshaw has thrived against the hammer that is Mathieu Bastareaud, the Athlone man must feel close to invincible.
"Yeah, I mean it was my first time playing against France in my international career and I found it was a big step-up physically," he shared.
There is no greater test of courage in rugby worldwide than that taken into contact by Bastareuad, leading arm and all.
"They had a massive pack running at us and I found the physical threat of Bastareaud quite tough to deal with," he admitted.
The 21 year-old is being a touch humble.
The first meaningful action he had against the French was to assist Jonathan Sexton in stopping, holding, and tucking up in under Bastareaud to force a turnover maul.
He said: "We trained really well during the week and we put into place what we did and it worked out.
Read More:
"I was having a chat with Darce (Gordon D'Arcy) during the week, how to approach and tackle him.
"I know Joe (Schmidt) mentioned that it's a two or three-man job but I think just getting up early, getting in his face early and stopping his momentum was key.
"We got an early shot at him, Johnny got a very good shot at him on his first carry and we held him up and that really decided it.
"From there on, we didn't let him get too much ball or build up too much momentum.
"In terms of what I expected, yeah, I thought he was a real handful."
It would seem there is a natural link being formed between Sexton, the man returning to Leinster in the summer, and Henshaw, the man Leinster want to bring home.
"Johnny is just a true leader, he's always in your ear," said the 21-year-old.
"Johnny is a great player. You can read off him, what he's going to do. He puts people away into good space really easily."
The relationship will come under even greater strain against the English, because of their better organisation and the superior athleticism they will take into The Aviva Stadium on Sunday week.
There is the umbilical link from Sexton to Henshaw and further out to Jared Payne, three games into a new centre partnership.
The Connacht and Ulster men first shook hands at Ireland's August camp and have come to see they are in the same boat as Test centre novices.
"Myself and Jared are getting closer and closer, our relationship is getting better and better.
"He's reading off me and I'm able to read off him.
"Just training with him and being in the environment with him is great.
"I know more and more about his game, just learning every day off him.
"It's going to get stronger and stronger."
The will of the collective is what matters most and the one-in-it, all-in-it attitude means Ireland has become a force greater than the sum of their individual parts.
"I think we're in a really good position after two big games. Italy wasn't easy away, our first test.
"Obviously, France coming back to Dublin then was a tough occasion but we ground it out, stuck to our game-plan and we took our points in the end."
The revival of Wales' Six Nations aspirations at Murrayfield brings them back into contention and they will wait in the long grass for Ireland.
Before that, the two unbeaten countries in the competition will go head-to-head in Dublin.
"We've put ourselves in a good position now and this is possibly going to be the Championship decider against England," said Henshaw.
illusions
He is under no illusions about how difficult it will be to contain the English now that Bath's George Ford has been able to connect with club colleagues Jonathan Joseph ad Anthony Watson.
"It's not going to be easy. It's going to be a massive test," he issued.
"They're going really well and they've unbelievable potential, especially in the back line.
"They're a young, electric back line and really electric wingers, so they're going to really test us. We need to be as sharp as we can be."
The fact Ireland have not shown the same accuracy in attack that they have in defence has not been lost on Henshaw.
He is not unduly bothered.
"Yeah, it's a new ball game but I think we have a lot more to offer in terms of our attack and we're really going to have a go at them this time and really going to put it to them.
"It's on our soil and I think we're not going to hold back."
This won't mean a move away from their strengths with half-backs Conor Murray and Jonathan Sexton putting the ball where t needs to be more often than not..
"I think in terms of our kicking strategy we play a really smart game. We're not just a crash it up team.
"We look for space in behind teams, we look to exploit some space and put the pressure back on teams.
"So our game plan is quite smart and some teams just don't know really what's going to happen."