From Pearse's surrender note to Clarke's razor - an intimate history of 1916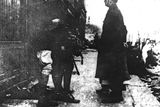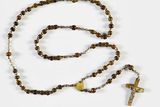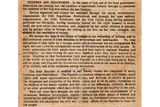 Poet-in-Residence at the National Museum, Dermot Bolger, takes an exclusive look at a fascinating series of Easter Rising objects that will go on display at a major new exhibition
To truly understand any complex historical event you must always look at the bigger picture. But at times an event only comes alive in your mind when it is conjured up in tiny every day objects. These may only be scattered fragments of a much wider jigsaw, but they can make history resonate in our lives.
Last week, using protective gloves, I held a number of seemingly commonplace objects in my hands while visiting the special conservation unit at the National Museum of Museum of Decorative Arts & History at Collins Barracks in Dublin.
This museum - where many scenes in RTE drama Rebellion were filmed - is a hub of activity as staff prepare to launch one of the largest exhibitions they've ever staged. Proclaiming a Republic: The 1916 Rising opens in March as the centrepiece of the National Museum's year-long programme of commemorative events.
Collection
I was granted a sneak preview because, from March to August this year, I will be the Museum's first-ever Poet in Residence. It is a collaborative project between the National Museum and Poetry Ireland, entitled Other Voices, which takes inspiration from the Museum's Easter Week Collection.
Our hope is to bring a wide range of different voices into the museum, through school workshops, community writing workshops and a series of public conversations - all free.
For anyone with an imaginative spark, it would be hard not to draw some inspiration from some of the objects I viewed.
Obviously, many of the exhibition's major artefacts are ironic and famous. These include an original copy of the Proclamation once owned by the rebels' chief medical officer Kathleen Lynn, the Irish Citizen Army Flag which flew over the Imperial Hotel and Pearse's handwritten surrender note.
But the items that sparked my imagination were unremarkable on the surface. Only after you understood their providence did they resonate with significance, turning historical figures - presented as virtual plaster-cast saints during my primary school days - into flesh-and-blood people.
The small razor blade might have belonged to any of our grandfathers, but it was the one that Thomas Clarke acquired after his release from Portland Prison in 1898 - when he had been imprisoned for his part in a dynamiting campaign. He shaved himself with it every morning from then until Easter Monday in 1916.
The set of rosary beads (inset) looked similar to beads that so many of us have unearthed when clearing out houses of elderly relatives. But these belonged to a British army officer, Sgt W Hand: a member of the firing squad who executed Joseph Mary Plunkett.
Hand gave them to Plunkett before his execution, as a mark of respect and for whatever solace they might provide to Plunkett who, only hours before, was married in the same jail where he would be shot.
He retrieved them before Plunkett was buried and gave them to his cousin, Dora, before Hand was sent to join the ongoing slaughter in France, where he was killed in 1918.
Some items look so ordinary that, without their case notes, nobody would guess their significance. These include the small spectacles case containing glasses belonging to Patrick Pearse.
But a closer examination of other apparently commonplace objects revealed a revolutionary intent. These include Dublin Corporation reports that Councillor William P Partridge brought with him to Tralee a week before the Rising. A glance at the cover suggests that this book was merely dull reading material. But once you open it you find sections of pages cut out to create a hidden compartment where Partridge concealed bullets and documents given to him by James Connolly.
No exhibition of this magnitude is staged without enormous input from a vast range of skilled people. It was fascinating to watch professionals painstakingly conserve the overcoat that Roger Casement wore when captured.
But it is impossible not to contemplate the 15,000 artefacts that now exist in the National Museum's 1916 collection without singling out one determined individual: Helen 'Nellie' Gifford Donnelly.
Nellie was the only one of the six famous Gifford sisters to fight in the Rising and the only one who declined to convert to Catholicism.
Repository
Perturbed by the quasi-religious tones in which the Rising was starting to be remembered, in 1932 she began to collect artefacts belonging to ordinary volunteers.
These might otherwise have ended up in drawers after people's deaths: their significance forgotten. The seeds of our now vast National Museum collection came from Gifford's initial meticulous efforts.
Her pioneering work started a repository which the Museum has constantly added to over the decades. This year's exhibition will contain weapons, uniforms, manuscripts, prison diaries and emotive personal memorabilia to help contextualise the Rising, to convey the varied personalities of the key people involved and examine the often overlooked experiences of ordinary Dubliners, whose deaths far exceeded the number of combatants killed on either side.
It will be a unique experience for me to write surrounded by such artefacts and to invite into the museum guests such as John Sheahan, who will play a new composition written in memory of Citizen Army leader Michael Mallen.
In a private reading in memory of a deceased relative who was executed a century ago, Paul Durcan also will read poems in memory of his great-uncle, Major John MacBride, his mother, Sheila Durcan, and other members of the MacBride family.
When this exhibition opens in March it will be a unique experience for every member of the public who visits Collins Barracks and loses themselves in contemplation of items that are both unique and remarkable in their ordinariness.
Proclaiming A Republic: The 1916 Rising opens at the National Museum of Ireland at Collins Barracks in March 2016