'To steal someone's dignity is an utter failure' – Game of Thrones' Liam Cunningham joins thousands at eviction protest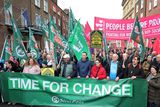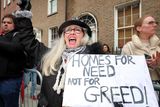 Thousands braved miserable weather conditions to protest against the Government's decision to lift the ban on evictions.
An estimated 2,000 people made their dissatisfaction with the State's housing policies known as they protested outside Leinster House.
Game of Thrones actor Liam Cunningham, who attended the protest, said the housing crisis is "obscene" and a "failure" of the Government.
"When I moved out to Coolock in the 1970s, this was before we were in the EU, we weren't a wealthy country and we were able to build for people," he told the Irish Independent.
The Dublin actor said he has a friend with a 10-year-old child who is being evicted.
"You can't ask a grown man to sofa surf… it's obscene. To steal somebody's dignity, that's an utter failure of Government policy. It's beyond competent," he said.
The protest was organised by the Cost of Living Coalition and was supported by a range of trade unions, political parties and activism groups.
A single mother, who wished to remain anonymous, with a nine-year old child will be evicted from her home on Thursday.
"The anxiety is huge because I have done everything right, I've paid taxes for 17 years and I've paid thousands in rent, it's unfair," she said.
The mother, who works full-time, was served with an eviction notice in October and has not been able to find alternative accommodation.
"I don't want my daughter to be in emergency accommodation, that is traumatising for life," she said.
Meanwhile, disability activist Kayleigh McDevitt (28) with Cerebral Palsy was told she would be living in transition housing in Clontarf for a maximum period for six-months, however, she is still there five years later and says it is affecting her mental health.
"I can't afford my TV anymore because of bills getting too much," she told the crowd in an emotional address.
"I know it doesn't mean a lot to people… but as someone who is suffering from depression, this government is sending me further into depression.
"It makes you feel like you are not valuable enough," said Ms McDevitt, who is on a disability allowance of €220 per week and pays €511 per month on rent.
"Why can't people stand up for us, because I don't know how much more I can take."
While 69-year-old June Maher from Bray, who attended the protest, was served with an eviction notice in 2018 as her landlord sold her home after nine years.
"I was four days away from declaring homeless," she said.
Ms Maher has "severe" arthritis" and was forced to rent an apartment with "black mould" before she received a home from the council after 13 years on the housing list.
"To find yourself in that situation is surreal," she said.
"I threw myself at the mercy of the council, I had too. I never dreamed in a million years after working since 13 that it would happen," she said.
Sinn Féin TD Louise O'Reilly said the "spineless" Independent TDs who supported the government in lifting the eviction ban should be "ashamed".
Ms O'Reilly said she received a notice of eviction from her home in Clonskeagh in 1995 when she was pregnant.
"I don't know if anyone in the government was ever evicted into homelessness, but I was," she said.
"It was horrible and I felt ashamed. I felt ashamed because I couldn't provide a house.
"When I think about it now and think about the people facing eviction and homelessness, they shouldn't feel any shame, the shame is on the government," she said.
Labour leader Ivana Bacik, who attended today's protest, said she is "deeply concerned" by the stories from constituents in her area who have been left with "nowhere to go".
She said it is "appalling" for people to be told to garda stations if they have nowhere else to go.
"Councils have been left in a very difficult position because they haven't been given the resources or the capacity. Government are telling us there are schemes in place but they are simply not," she said.
The eviction ban was introduced for six-months over the winter period as a safety net for renters at risk of becoming homeless.