Sun arrives just in time for ice-cream shops as energy bills hit €8,000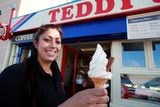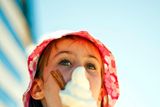 Ice-cream stores are hoping for "massive" business this weekend as the sun splits the rocks following a dreary start to May.
Some of Dublin's most popular ice-cream outlets say while their business "doubles" in the summer months, they are dealing with the rising cost of ingredients and energy bills as high as €8,000.
"It's been a long time coming," said Yasmin Khan, co-owner of Teddy's ice-cream, renowned for its whipped 99 cones in Dun Laoghaire.
"We're nearly into June and May hasn't been great," she says of the weather.
"We are renowned for the standard 99 cone, that would be the most popular. I love making them and it makes people happy."
Teddy's ice-cream shop in Dun Laoghaire dates back to 1950 and has since expanded to five locations across south Dublin.
"My dad has been in the ice-cream business for years so we took it over and expanded. We are a family run business so it's nice to try and keep it that way," she said.
The shop owner said "everything is getting a lot more expensive", and the cost of products has increased by nearly 50pc.
"We've had to pre-plan a lot," she said, adding that staff are "hard to come by this year".
The ice-cream season starts "from mid-March until the end of September, but realistically it picks up around Easter time, communion season and with school holidays we should be fairly busy. July would be our busiest month".
It is also benefiting from the refurbished Dun Laoghaire Baths and the "beautiful seating area there" since the baths reopened.
Meanwhile, Paddy Moloney, owner of Scoop, said the ice-cream business is "massive" in the summer months.
The brand has four ice-cream shops in Ranelagh, Aungier Street, Sandymount and Clontarf and makes all of its gelato fresh in their Dublin premises.
"Our business would double or more during the summer. May was a little bit wetter than we expected, but in the last two weeks there has been a big upturn," he said.
It takes about 15-20 minutes for the store to make around 18 litres of gelato.
"The chefs get a hell of a lot busier," he said. "During the summer we might be making ice-cream for 12-18 hours per day. We make our own hand-crafted gelato, it's in the italian tradition."
As the cost of energy rises, ice-cream shops are also feeling the pinch running freezers, air-conditioning and the rising cost of ingredients.
"Our electricity went through the roof, particularly towards the latter half of last year we were seeing some high electricity bills. I think our worst was about €8,000," said the shop owner.
"It's a combination of freezers, air-conditioning units, we use crepe plates which also require a lot of energy.
"We're in business now for the summer. It would be busiest at the weekends, particularly Sunday."
The top selling flavours for Scoop are Oreo, Feraro, sea-salt caramel and the classic vanilla, with the tubs being the most popular, followed by the cone.
Meanwhile, Murphy's Ice Cream on Wicklow Street in Dublin is already busier compared to last year, although running costs have increased "quite substantially".
"St Patrick's Day is when we started to ramp up for the year with all the extra tourism. We do a lot of collabs with Irish producers," said Louise Cully, store manager.
Murphys hand-makes their ice-cream at their production site in Dingle, Co Kerry, and Ms Cully said the shop is "bracing ourselves" for the June bank holiday weekend.
"The weather is meant to be good as well. We are already busier than we were this time last year," she said.