Dunnes Stores lodges plans to redevelop Crumlin Shopping Centre creating 450 jobs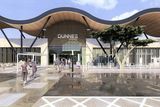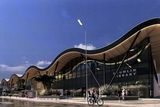 Dunnes Stores has lodged planning permission to demolish Crumlin Shopping Centre and construct a new development in its place, creating 450 jobs on completion.
The proposals to "transform the site" in south-west Dublin includes constructing a new 16,678sq metre shopping centre with Dunnes Stores being the primary retail unit on the ground and first floor.
The proposed shopping centre on Crumlin Road has the potential to create more than 450 jobs when operational, and between 150-200 jobs during the construction phase.
Proposals for the site include space for a café and four independent retail units, ranging in size, as well as a library facility, community space, a gym and public toilets.
Plans also include a food market with seven kitchens on the ground floor and an associated food court, including a food counter and seating area.
According to planning documents, the new centre will be "capable of meeting the evolving needs of the existing tenant and responding to the modern demands of shoppers and retailers".
The proposed development will have 400 car parking spaces, a loss of 103 of the existing car parking spaces, which will be upgraded with 80 EV charging spaces.
The proposals also includes 267 bicycle parking spaces including six cargo bicycle parking spaces.
Planning Permission was lodged by Better Value Unlimited Company to Dublin City Council this month.
The existing Crumlin Shopping Centre, built in 1974, is in "very poor condition" and Dunnes Stores is the only retailer on-site.
The shopping centre is currently comprised of two large supermarket units, one of which is by Dunnes Stores and the other vacant, and a number of smaller retail units which are also vacant.
According to planning documents, the smaller retail units have been vacant for more than a decade. The site has also attracted anti-social behaviour in recent years due to its dereliction.
The shopping centre is served by bus routes 27, 56A, 77A and the 151, with future bus services set out as part of Bus Connects.
According to planning documents, the proposed development will "revitalise an area that has undergone constant and sustained dereliction since the post Celtic Tiger years".
An Environmental Impact Assessment Report and a Natura Impact Statement (NIS) have been prepared.
The proposed development is open for public consultation until April 17, 2023.