Dublin water supply to take 'several hours' to return to normal as repairs completed
Water tankers have been deployed in various locations across Dublin which have been hit by the major outage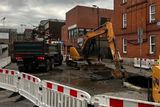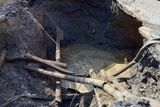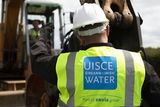 Amy Blaney and Paul Hyland
Emergency repairs have been completed to a burst water mains which caused water outages for tens of thousands of people in Dublin.
Irish Water said crews worked through the night to progress repairs, which were completed at around 2am.
Normal water supply is expected to return to all areas of the city this morning as the water network refills.
However, Irish Water said this may take "several hours" due to the size of the network.
Tens of thousands of customers, on the north and south side of the city centre, were affected by the outage caused by a burst water main.
The issue arose on Thursday morning and the force of the mains burst at Marrowbow Lane, in the south inner city, was so great, that damage was caused to the roadway.
"Repairs were complex due to the location of the pipe and the presence of other underground services.
"However, to minimise disruption as much as possible, crews worked throughout the night to progress repairs which were completed at approximately 2am this morning," said a spokesperson for Irish Water.
"Following the repairs, it takes several hours for normal water supply to return to all customers due to the size of Dublin's network, especially for those on higher ground or at the end of the impacted network."
Customers in the following areas may be impacted by reduced water pressure: Dolphins Barn, Harolds Cross, Kilmainham, Fleet Street, Brunswich Street, The Liberties, Gardiner Street, Dorset Street, Drumcondra, Whitehall, Artane, Coolock, Beaumont, Fairview, Raheny, Clontarf, Killester, Home Farm and surrounding areas.
Water tankers are in place from 7am until 9pm today at the following locations: Northside Shopping Centre, Artane Shopping Centre, Killester Shopping Centre, Griffith Avenue (near Philpsburgh Avenue), Clontarf Coast Road, Clonliffe Road (Croke Park), Newmarket Square off Cork Street, Howth Road, Killester Village, Smithfield, North King St.
Joe O'Reilly of Irish Water said: "We understand how disruptive unplanned outages are for local communities and would like to thank all impacted customers across Dublin for their patience during while crews worked on repairs.
"I would like to thank the specialist water services crews in Dublin City Council for their dedication and expertise and for working throughout the night to limit the impact on customers and successfully complete the repairs.
"In addition, thanks to the residents in the area for their patience and understanding as we worked through the night on the repairs," he added.
Labour South West Inner City Councillor Darragh Moriarty said constituents in the Dolphins Barn and Cork Street areas were "severely impacted" yesterday.
"I got a couple of phone calls from people living on Dolphins Barn Street, which is right opposite from the Coombe Hospital, and there's a local Facebook group in Maryland and there we're all reporting that the water had either stopped altogether or had reduced to a trickle," he said yesterday.
Cllr Moriarty said there are a lot older people in the affected areas and he urged neighbours to shared whatever water they can spare.
"I know that in Maryland in particular, there would be a lot of older people who might not have access to social media, who might not have even seen that the outage has happened.
"The messages that are going around on Facebook groups are, check in on your neighbours, see how their fixed and offer any sort of support you can in terms of going down to the shop for them," he added.
Green Party North Central Councillor Donna Cooney echoed this sentiment and urged residents to notify Dublin City Council via its online alert service if they are affected by the outage.
She said the outage is further proof of the importance of the ongoing work to replace old water pipes across the city.
"They are liable to burst. A lot of people are complaining about the disruption that's causing in terms of traffic on Alfie Byrne Road… but they're replacing a 100-year-old water pipe. So hopefully, these things will happen less often when we have these pipes replaced," she said.
Manager at Centra Bonnington, Drumcondra, Sharon Hutch had to call their supplier for an "emergency delivery" of water, as they have been bringing supplies to vulnerable customers throughout the day yesterday.
"There's a lot of old people near us that we know would need help, so we ran over with water to them before it's sold out," she said.
"There's some people that can't even leave their house and we're bringing water over to them."
The outage also impacted thousands of other business across the city, including the Pearse Lyons Distillery, on James Street, which had to close early yesterday as a result.