Dublin school with crumbling plasterwork and playground in car park has funds delayed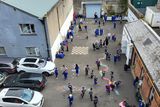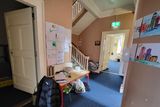 A Dublin school in temporary accommodation for more than 20 years has been told that funding for a new building has been put on hold.
Gaelscoil Choláiste Mhuire on Parnell Square has been operating in a Georgian building with no universal access since 2003.
It is dealing with substandard classrooms with crumbling plasterwork and a school yard which doubles as a car park.
Principle Pól Hansard said it is a "logistical nightmare" for the staff and 176 pupils in the mixed-school.
"A couple of years ago some of the plasterwork fell down from the ceiling onto a teacher's desk while she was sitting there in the class," he said. "It's a listed building, so it's very limited in what we can do to change anything."
The four-storey school has eight "small" classrooms, each with no running water, and bathrooms on the second floor and mixed bathrooms on the ground floor, with a narrow staircase the only access route.
"The stairs that we have are so narrow. We had a child and her knee popped out a few weeks ago so we had to call an ambulance," said the principal.
"Because she was at the top and we have these windy stairs, they couldn't get a stretcher up and had to call a fire engine to come and help get the child out of the school while she was in agony," he said.
A site for a new 16 classroom school was earmarked on Dominick Street in 2006 and was transferred from the council to the department in 2021 after planning permission was received.
Plans for the vacant site reached tender stage in September and a report was received by the Department last month. Builders were expected to be on site by Easter.
However, the school was told this month that funding had suddenly been put on pause with no timeline to proceed.
It is one of more than 58 school projects in the tender or construction stage that have been put on hold due to funding pressures.
The school yard is shared with a hotel next door which owns the "right of way" across the yard.
Mr Hansard said the hotel has been "brilliant" facilitating the pupils in the yard, but "we have no sports hall or general purpose hall".
"When it is raining the children are stuck in those rooms all day long," he said. PE is facilitated in the "car park area" when the weather is suitable.
A fire safety report a few years ago recommended no more than 60 children on each level.
"There is no water in the classrooms, which makes arts and science a logistical nightmare," said the principal.
"We only have two sets of toilets, one on the ground floor and one on the second floor. When children need to go to the bathroom they are leaving the classroom and walking around the building that's 280 years old.
"It's a supervising nightmare," he added.
There is no universal access in the building for children with mobility issues and pupils would need to be "lifted up steps" to get to the classrooms, said Mr Hansard.
"Children are very resilient and the staff we have do everything we can," he said.
"It's always been 'another year or two' and people put up with it for a long long time… but it's going on a long time now."
Mr Hansard said the building is "not appropriate as a school" and if ground is not broken on the site this year, then "the department would have to find us somewhere else to go".
"We can't stay where we are," he added.
The Department of Education is currently paying €328,000 on rent each year for the building.
A spokesperson for the department said it is "currently assessing its work programme and priorities for the remainder of 2023 in the context of its available funding".
"The Department's published NDP allocation for 2023 is €860m. Over 70pc is needed to cover contractual commitments on existing projects carried forward from 2022.
"High construction inflation remains a continuing feature of the construction sector.
"The Department has contacted all schools individually and will be providing an update to these individual schools when its engagement with the Department of Public Expenditure, NDP Delivery and Reform concludes.
"It is important to stress that while these projects are temporarily paused the Department is committed to the delivery of these building projects."