Des Berry: Cullen insists garry can cope
Ringrose moves from Saili to Aki in one week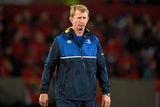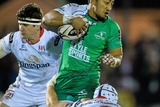 The embryonic career of Garry Ringrose is all about ticking boxes. Leinster debut against Cardiff Blues. Tick. First 80 minutes - in the same game. Tick.
First try against The Dragons. Tick. First start in his natural position against The Scarlets. Tick.
First taste of the Champions Cup. Tick. First start in Inter-provincial against Munster. Tick. First start against an All Black in Francis Saili. Tick.
You couldn't forgive Ringrose if his head is spinning from the super-sonic rise of a 20 year-old on the verge of being listed in Joe Schmidt's extended Ireland squad for the Six Nations.
The next challenge to counter is that of the PRO12 League's most explosive ball carrier Bundee Aki in what is a physical examination to match that against Saili.
Coach Leo Cullen has been careful in how he has introduced the 20-year-old to the big time.
Initially, there were five 80-minute matches in which he was nursed from the wing into the centre.
The foot was taken off the accelerator from the first week in November to his next start at thirteen against Munster last week.
Hype
The hype that can follow his footsteps is a touch frightening.
He is already deemed precious cargo, a jewel that needs polishing and protection form being asked too much too soon.
"He does look a little light but he is quite tall as well and he will fill out," said Cullen.
"Garry, all of those young guys, for a lot of them it is the same.
"Guys that are in the Academy, there is always 50 things you can point out that they can get a little bit better at.
"It is just a matter of prioritising a couple of things and just making those gradual improvements all the time."
For all of that, Ringrose has shown progress each time he has pulled on the blue jersey.
All of this while studying Law and Business at UCD which had to be factored into his winter playing programme.
"You don't want to put undue pressure on young players for sure. It's a hard one," said Cullen.
"Before Christmas, Garry was doing his exams because he is a full-time student. We had to balance a lot of that for him in terms of giving him time off.
"He's definitely someone we have earmarked to have a big involvement with Leinster for a large number of years."
Cullen saw enough against Saili to confirm the impression Ringrose will be able to combat all 100 kilos of Aki.
"Between Bundee Aki and Saili what is the difference in size there?" asked Cullen. "You know, one is a guy who is an All-Black, so, what's the comparison or what's the worry? I don't understand," he reacted.
There is merely a concern over how to deal with the man whose explosiveness has seen him make more breaks in the PRO12 than any other this season.
"I think, of course, you have to have an element of what you're playing against. I don't see it as that big an issue.
"They're both quality players, Saili and Bundee Aki, they both have a lot of Super Rugby experience.
The fact that Saili is an All-Black, does that make him a better player than Bundee Aki?
"They're both quality players, and I think Garry is going to be a quality player."
Undoubtedly, Leinster want to see how Ringrose reacts under severe physical pressure.
Of course, there will come a time when he will have to make his one-on-one tackles on Aki, just as he did on Saili.
But, he won't be out there on his own.
"It's important that we get good quality players around him as well, so he can be as good as he can be," said Cullen.