Cork hurling boss Pat Ryan believes Kilkenny encounter 'will be a fantastic game for us'
Last weekend's draw with Clare in Ennis sets the Rebels up for a showdown with the Cats in Nowlan Park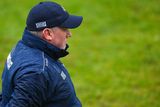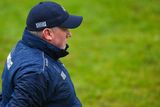 The members of the Cork senior hurling management team don't have anything in mind as to what the championship team will be. That's according to manager Pat Ryan when he spoke to members of the media after Sunday's draw with Clare at Cusack Park in Ennis.
"We don't have anything in our head as to the championship team. People get obsessed with what your championship fifteen will be. We are not in that mode at the moment.
"We are into a mode of trying to get everybody up to the level and making sure every Tuesday and Thursday nights are very competitive. Long may that continue," he said as he reflected on the team's latest result.
"We are delighted with the effort the lads are putting in. There are lots of games where the lads could have played a lot better. I'm absolutely thrilled with the first half performance there today, the way we played. There are obviously areas we need to work on but we were against a very good Clare team."
Asked about the upcoming championship campaign he said: "We are taking every game as it comes. We have had a couple of injuries and we are looking to get fellas back on the field, the more opportunities they get to play the better.
"We will be going to Kilkenny next week – we have a home and away arrangement with them – and hoping to get a win there."
Continuing he said playing Kilkenny will be "a fantastic game for us particularly when we are not facing them in the championship. We are looking forward to that, they have been going well themselves. They will bring a huge physicality as Kilkenny do and that will test our fellas."
Asked about the injuries picked up by Seamus Harnady and Declan Dalton in the first half on Sunday he said, "I don't think we will be risking them next week but they will be back and ready for the championship."
Continuing he said, "Pat Horgan is recovering from an ankle injury and is a week or two off returning to action. Seán O'Donoghue got a very bad dead leg, as bad as I have seen.
"He is making good progress, he is back running but probably two to three weeks away from a return to action. Tim O'Mahony is hopeful of being part of the squad next weekend.
"Darragh Fitzgibbon is back hurling at the moment, it's just about getting his confidence back around contact. They are in good enough shape," according to the manager.
Ryan had some interesting comments about the hand pass.
"There are a lot of teams throwing it and there is no doubt about that," he said.
"I would say go with a hand pass off the hurley and that would sort this fairly quickly, that's a fantastic skill. If you bring in the hand pass off the hurley, fellas can't be grabbing your spare hand because you are trying to throw it up on the hurley and that would be a free straight away.
"It would clean it up an awful lot. It would also bring in another element that is a very skilful part of the game that we don't use enough. It would also make the referees' job easier.
"The game is about striking the ball, it's not about hand passing it and running up and down the field. That's a different game. The game is about striking the ball and that is unique to our sport. I would be encouraging us to strike the ball as much as we could."
Speaking after Sunday's game Clare manager Brian Lohan said: "Whatever about the result we definitely needed an improvement in performance from the Galway game. I am happy enough with how the lads played. It's crucial to gets guys back, and it was a good match to come back into".
Did Clare benefit from the league?
"There is a huge amount of focus on the last result in the league. After the Galway result we would have been very disappointed with the league but after that performance today we are happy enough, but Cork were missing a good few."
What about the sending off of David Fitzgerald?
"I didn't see a huge amount in it," he replied.
As they turn their attentions to the championship what is the up to date in relation to injuries?
"We have a massive couple of weeks now. We hope to be picking from the full panel,", he said confirming that Shane O'Donnell is back in training having missed out on the league campaign."