Video shows how Cork village faces sewage threat when heavy rain causes flooding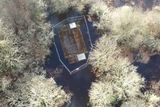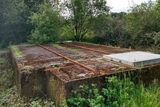 Concubhar Ó Liatháin
Corkman
The Cork Gaeltacht village of Béal Átha'n Ghaorthaidh has been told it will have to wait until 2029 before a modern sewage plant is installed despite having to endure sewage flooding into back gardens and the local GAA pitch when it rains heavily.
Graphic images of the toxic material encroaching into the area from the sewage tank are depicted in a video which the chairman of the local development committee, Coiste Forbartha Bhéal Átha'n Ghaorthaidh, has posted online.
The sewage tank was installed in the 1930s to service just 10 homes. Now the village has around 80 houses and Cork's County Development Plan which covers the period until 2028 envisages at least 20 more houses being built within the village boundary.
Béal Átha'n Ghaorthaidh GAA chairman Dónal Ó Laoire said it was shameful that the community had to post a video showing the sewage encroaching on the back gardens of houses in the village as well as the GAA pitch.
"The sewage treatment plant we have in Béal Átha'n Ghaorthaidh is well past its sell by date," he said. "It was installed to serve 10 houses 90 years ago and now there's 80 houses in the village and a halt put to any further development until this issue is resolved."
Speaking on RTÉ Raidió na Gaeltachta's Saol Ó Dheas programme, Mr. Ó Laoire said the video had been taken the previous day after heavy rainfall but that this was a common occurrence during the Winter.
"The sewage was spilling out into local gardens and our GAA pitch," he said.
"You'd see yourself that if a blue flag beach was enduring the same pollution, it would be closed immediately so it's an obvious risk to health.
"Just like there's ecoli in the sea from sewage, there's definitely ecoli in our local river from the sewage."
He explained that the tank installed in the 1930s is just that, a tank, and not a sewage treatment facility.  "It's not being treated – it's as if your house was connected by a pipe to the river directly because of this old fashioned tank we have."
The local committee have been informed that while Uisce Éireann have begun preliminary work regarding a new sewage treatment facility for the village, it will take between 5 and 7 years before that's installed and working so 2029 is a provisional date for a new plant to be operational.
Another factor which has to be taken into to account is the population of Béal Átha'n Ghaorthaidh more than doubles for the Summer months when the local Irish college, Ireland's oldest, Coláiste na Mumhan opens.  Between 100 and 200 students attend each of the three 3-week courses and many of them stay in a boarding facility in the village, thus adding to the pressure on the sewage facility.
This week a sewage treatment plant estimated to have cost €6,5m opened in the nearby village of Inchigeelagh,  As he welcomed this development, local TD Michael Creed of Fine Gael pointed to the situation in Béal Átha'n Ghaorthaidh which he described as deplorable.
"This is great news for Inchigeelagh, but the neighbouring village of Ballingeary is still awaiting progress on a new sewerage scheme and there has been no indication yet as to when that might happen.
"I note that Uisce Éireann are claiming, in their press release about the Inchigeelagh scheme, that they have now 'eliminated the discharge of untreated wastewater into the River Lee'.
"This is clearly not the case, since untreated waste water is still being discharged into the Lee in Ballingeary," he said.
"I would describe the completion of the Inchigeelagh Scheme as a good start – as we say in Irish 'tús maith, leath na h-oibre'.
"But there is a lot of work to be done" he said.
"I have contacted Uisce Éireann on a number of occasions asking them to put all the necessary steps in place so that a new sewerage scheme for Ballingeary can be built as a matter of urgency. I am repeating that call today."