Múscraí Gaeltacht school celebrates 125 years and counting with community barbecue
Réidh na nDoirí National School hosts community celebration to mark jubilee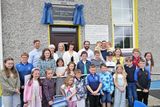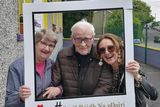 Concubhar Ó Liatháin
Corkman
When Scoil Náisúnta Réidh na nDoirí in the heart of the Múscraí Gaeltacht first opened in 1898, it had 197 pupils. It's a much smaller school now, with 21 pupils on the rolls, but a jubilee celebration on Sunday illustrated that the local community is very much behind and proud of the school.
"At a time when many schools were closing around west Cork, because we're a small school, we thought it would be a good thing to do to celebrate, for the sake of the school and the community" said Cian Ó Duinnín, who was appointed Principal last year.
"A huge crowd turned out for our celebrations on Sunday and there were many past pupils and teachers here meeting up for the first time in years," he said.
"It was great to meet up with them and hear their stories about the school and their time here.
"Sunday's event was a thank you to the local community for the support they've given over the years and their support for the school remains steadfast."
Sunday's celebration comprised of a barbecue and tea and refreshments as well as a celebratory cake while inside the building was a display of old roll books as well as photographs of past pupils spanning more than a century.
The school has also published a book of photos and interviews, reminiscences and from past and present pupils and teachers.
Included is an interview with past pupil Victoria Mary Clarke, the writer and journalist, who attended Scoil Náisiúnta Réidh na nDoirí for a year or two at the end of the 1970s.
"I moved with my family from Dublin to Cill na Martra and the head teacher at the time was Mairéad McSweeney who was our nearest neighbour," said Victoria during her interview with Cian Ó Duinnín.
"The school was in danger of closing because it didn't have enough pupils so she asked my mother if my sister and I could attend the school.
"I remember Mairéad, she was a really lovely woman very kind and enthusiastic - it was a very different experience coming to this school after a much bigger school where there hundreds of children."
Now as then, numbers are an issue for any small school and Scoil Náisiúnta Réidh na nDoirí, while no exception, is making strides on that front.
It's increased its enrolment by 50% in ten years, up from 14 students in 2013 to 21 this year.
"Life has changed enormously in th 125 years since Scoil Náisúnta Réidh na nDoirí opened its doors," said Cian.
The principal and his colleagues are confident that good times lie ahead and the event on Sunday was a boost as Summer holidays approach and yet another crop of young pupils get ready to attend the school.
"The future is definitely bright for Scoil Náisiúnta Réidh na nDoirí," he said. "We hope to see more growth in the school in the years to come.